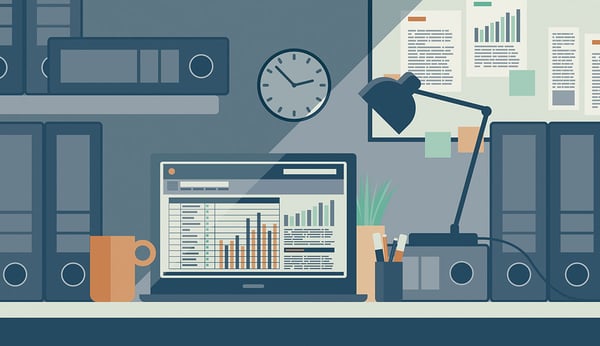 Are you considering an upgrade to your current ERP application for your financials? In our overview of enterprise accounting software, we will discuss the four tiers of software, how to know when it's time to upgrade and tips for a successful implementation.
Are you considering an upgrade to your current ERP application for your financials? In our overview of enterprise accounting software, we will discuss the four tiers of software and how to know when it's time to upgrade, along with some tips for a successful ERP implementation.
Tier 1 Accounting Software
Tier 1 software includes products such as SAP 4/HANA, Workday, Oracle products, and some Infor products. These are big software applications, and they require quite a bit of maintenance. But they're worth it, they can handle tons of transactions as well as the requirements you need for complex federal regulatory reporting.
Tier 2 Accounting Software
Tier 2 software products do what the Tier 3 and Tier 4 applications do, but they usually have a wider breadth across the business, and they have deeper functionality. These include products such as NetSuite, Microsoft Dynamics 365 Business Central and Acumatica. A larger mid-sized company can run on the Tier 2 platform.
Tier 3 Accounting Software
Tier 3 software applications do well with accounting needs, but they can also handle other areas of an organization. These types of programs have accounting packages that can scale up to handle multi-company requirements, plus have features to manage currency, inventory, manufacturing, and services. Sage 100 is a good example of a Tier 3 product.
Tier 4 Accounting Software
Tier 4 software includes applications like Quickbooks, Sage 50, MYOB, Xero, and Accounting Seed. These are traditional products that are good for smaller businesses. These programs can do basic accounting well, but companies often grow out of them as they find the need to do more complex steps such as period closings or deep financial reporting.
Other Types of Enterprise Accounting Software
These four tiers are the core enterprise resource planning applications — where you create transactions and run a company's books. There are additional products that are used for other areas of accounting, such as a specialized billing application or professional service automation set up for a company to track expenses and invoicing for services. There is also FP&A (financial planning and analysis), as well as financial report software — which could be discussed as a topic of its own.
How to Know When to Update Your Enterprise Accounting Software
Figure out what you need.
The most important thing to know before updating your accounting application is to figure out what you need before you go to the market. Do this prior to looking at other things such as budget or the size of your company. Focus on what your organization requires, then do the research to understand what applications are available and what they can do.
Determine if it will benefit you in the short-term.
Before you update your ERP accounting software you must ask yourself if the business is going to benefit in the short-term from the new application. An accounting software implementation is stressful on employees and they need to see the light at the end of the tunnel — which would be more efficiency or better processes.
Can you support a new application?
When we work with clients who are thinking of updating their accounting system, one thing we will advise is that they ask themselves a few questions, including:
Is the new software the right thing for their organization?
Will it be best for the people that are currently in the company?
Do they have the manpower to support a new application and get through the implementation?
Will sticking with the current software be more stressful for staff?
Look at where you are as an organization when deciding on whether to do an implementation. If you know that big expansion is coming, then it could make more sense to change now. Sticking with your current software may be more stressful. In these cases, you may decide to do the implementation right away.
Is your staff going through massive effort to pull data?
Look at the people down in the trenches at your organization. Are they having to do extreme measures to pull data from one program and put it into spreadsheets or Excel? Does the billing department go to an application to see collections information, but then must check their email to know the last time they talked to a customer? Even if you make your people a small percent more efficient, an update could be worth the effort. Programs like Excel and Quickbooks have amazing functionality and are great — until they're not. Know when to spot that your organization has outgrown your current software.
If there isn't a clear consensus, don't make a change.
This is the most important piece of advice we ever give our clients. If you don't have the consensus of everyone on updating your enterprise accounting software, don't do the implementation. This agreement doesn't have to be with every person in the company, but the key people in the organization must be on the same page before you make the switch. Also, don't make an update because other companies are updating their software. If you don't need to change anything, don't.
Tips for a Smooth Implementation
If you have looked at the needs of your organization and determined you should update your accounting software, there are several steps you can take to help ensure a smooth implementation.
Focus on the basics
Some new ERP accounting systems can do a lot of things, they can practically make your bed for you. Focus on the basics first and wait for later to set up all the bells and whistles.
Hire an expert consultant
An experienced advisor will help get things done faster and achieve a better outcome. Get a consultant who understands your industry as well as the application you have chosen.
Have an inside champion
Every implementation project needs someone within your organization that owns it. They will be the go-to person who will see the project to the end. This may not be the CFO but should be a strong project manager who can harness the resources necessary to get it done.
ERP Advisors Group has helped clients in many industries to update their enterprise accounting software. If you are considering an implementation, contact us today for a consultation.