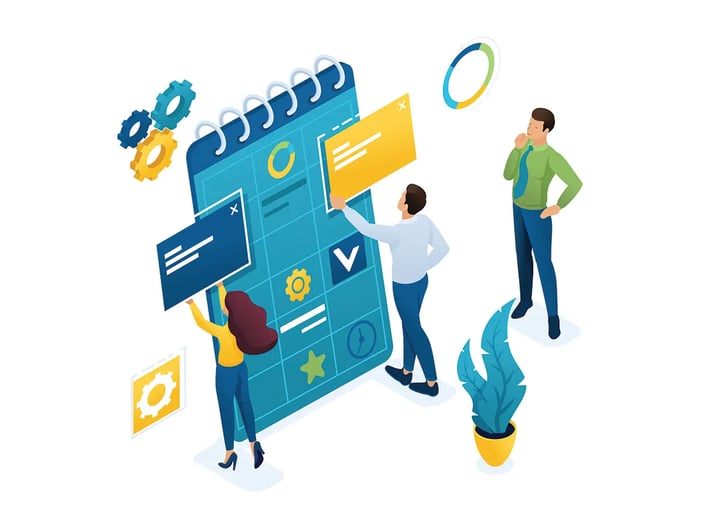 As you start the process of updating your ERP system, you should be prepared to have a strong project manager on your side. A client-side project manager is a specialized consultant who will act on your behalf, ensuring the project is run properly and every task is completed.
Still not sure you need additional assistance? Here are some examples of ways a client-side project manager can help you achieve a successful ERP implementation.
Be a Bulldog
You want a client-side project manager that will basically be a bulldog for your organization. They need to be a fierce advocate, ensuring that everyone including the vendor and implementation partner are providing the services required. At the same time, a project manager must have great communication skills and be able to encourage people to finish their tasks without creating animosity. It's a delicate balance, and the best ERP project managers do it very well.
Get Things Done
An ERP system implementation is a large undertaking with many moving parts. There are numerous steps that need to be completed by people within the client's organization, on the vendor's side, and with the implementation partner's firm. The most important way to achieve a successful implementation is to confirm each of these tasks are being done on schedule per the project plan.
A client-side project manager has the ability to stay on people, making sure that they show up and that they get their assigned tasks done. If needed, a project manager will go so far as to chase people up to make sure these things happen.
Get People What They Need
Throughout an ERP project, people are going to need assistance with their tasks. A project manager can look at the overall project plan, see what must occur, and find out why it's not happening. They can spot a delay and immediately go into that area to discover what is going wrong.
Issues that may hold up an ERP implementation project include:
The project team is missing information to accomplish one of their tasks.
The vendor needs a question answered from the client side of the project.
Testing has stalled due to lack of training.
Data migration issues or clean-up of data is needed.
A question from the vendor regarding configuration needs to be resolved.
The client-side project manager will dig into every issue, uncover what is preventing someone from producing their task, and ensure that person gets what they need to move forward.
Bring Everyone Together
Another important aspect of an ERP system implementation is communication. Projects don't happen without a lot of meetings and coordination among people from multiple organizations. The project manager can bring people in on a call and get everyone talking together, including the vendor, client, and implementation partner.
Without communication, tasks on the project plan could be missed or overlooked, and steps could be done incorrectly. In addition to ensuring that communication is occurring throughout the ERP implementation, a client-side project manager can also ensure that everyone is on the same page. Just because people communicate doesn't mean every person is understanding the other. The project manager can act as an outside set of eyes to look at everything from a different angle and see things others might miss.
Move from One Task to the Next
A client-side project manager is somebody who is willing and able to get cycles done. You need those "dones" to have a successful ERP implementation. The project manager will go quickly and efficiently from one task to another, getting one thing finished and then moving rapidly to the next one. This skill is crucial for the project, as any slow can have a domino affect and cause more serious delays near the end of the project.
Some tasks may take longer than others, but a project manager has the skill and know-how to handle these longer tasks, while also completing others. A project manager's ultimate goal is to ensure that every single step of the ERP implementation plan is completed. Having a person like that working for your organization is vital to the successful completion of your project.
Get Organized
Being extremely organized is another requirement for a good client-side project manager. As an ERP implementation plan includes numerous moving parts, the project manager needs to keep track of every one of those parts and not let anything fall through the cracks. An experienced project manager will do all of this very well.
Project managers must keep track of meetings and make sure they are happening as often as needed. They will also ensure all deliverables are being delivered and track the progress of each one throughout the implementation. You will find that a project manager will have every aspect of the project written down and can easily tell you the status of all tasks. This information can be crucial to your project.
Complete What They Start
The goal of every client-side project manager is to make certain that any ERP implementation they begin is completed. They will never be satisfied with an incomplete project and will do whatever it takes to get your project done. A project manager won't rest until their client is absolutely satisfied with an ERP implementation.
Often an ERP system implementation will get into trouble near the end, during the most critical parts of the process: testing and go-live. This is when you will need a competent client-side project manager that can step in and can push through any issues.
Some problems that can occur near the end of a project include an implementation team getting distracted by new projects. Or they could simply get tired of the project and not be inclined to fight through any of the last-minute issues that inevitably crop up. Your project manager will be the force needed to make certain every deliverable is met, and the software goes live successfully.
When you're ready to start an ERP system implementation, hiring an experienced client-side project manager can be one of the most important steps you take.