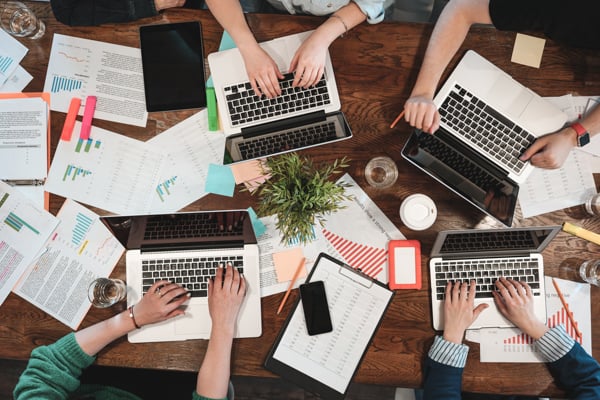 The ERP market is heavily saturated with expensive, large products that seem to go beyond what small businesses or startups would need. This leaves many new companies asking, "Are there ERP systems for start-ups?"
Do You Need It?
First and foremost, any company looking to implement an ERP system needs to be 100% positive their company requires an ERP system to operate and grow. ERPs are an expensive investment in both time and money, so no company can afford to implement an ERP when they are not ready; know that there is no free ERP for startups. If your company does not need an ERP, then do not commit time to the extensive process until you do.
Is ERP Good for Small Businesses?
Regardless of the size of the business, the need for ERP can depend largely on the complexity of operations. Startups built on basic business models or operations do not need to automate processes in the same way that complex business operations need to be automated for companies with less human capital. According to EAG's Senior Consultant, Justin Newcomer, "Complexity is the deciding factor in the case for ERP when it comes to startups and small-scale businesses. If operations are basic and can be easily managed, an ERP may not be necessary or worth the investment at that time."
Software Options for Startups Other Than ERP
When working to automate processes, it is important to know that this can be accomplished through the use of different software applications; ERPs are not the only solution. In fact, startups are encouraged to use startup systems, as they are tailored to what young businesses need and can keep costs low.

A number of startups utilize QuickBooks or Xero to organize their accounting and inventory, even going as far as giving salespeople direct access to the program so they can input their sales orders directly. Leaders can also implement a separate system for their Customer Relationship Management or simply keep a spreadsheet to track leads and interactions. Online businesses can utilize CRM systems through their website providers to maintain contacts and track interactions. These options all come at little to no cost to the user.

When specifically looking at manufacturing startups, they routinely pair up with FishBowl for their inventory and Bill of Materials while integrating to QuickBooks for accounting. Many even run on this model until their revenue is tens of millions of dollars a year until they find their transaction volume and complexity are enough to warrant upgrading to an ERP.
Why You Should Wait to Implement an ERP
Early on, smaller options allow businesses to grow and have experiences that define what their business will need in the future. As they mature, businesses will discover their requirements for accounting, inventory, sales, CRM, and more. In addition, as the business matures, leaders will discover what they do not need, which is just as important when making decisions.

Buying and implementing an ERP too soon may result in the company having to throw the software out in a few years once they have grown in a way that no longer reflects the system it chose. Some setups will not facilitate the business' increased complexity later on, so businesses can end up needing to begin the process once again, wasting time and money.
What Would a Startup Need from Their ERP?
After careful evaluation, your company has come to the conclusion that you need an ERP, but you do not necessarily need all the bells and whistles, nor are those features realistic with your budget. You know that your business is different, so what exactly will you need from your ERP?
Cloud & Software-as-a-Service (SaaS)
Due to its ease of use and relatively low costs, many startups choose to implement a Cloud ERP. Startups are generally very small companies that vary in funding, which typically means that they lack a large-scale IT department that could regulate an on-premises solution. Cloud ERP can be a lower-cost option for companies that are not yet revenue-generating.

In addition to the cost benefits, ERP Cloud for startups allows for the flexibility and scalability that they need for their early years. As they open new offices, launch new products, or hire new employees, their cloud system can grow with them.
Examples of Cloud ERP Software Options for Startups
Many of the prominent ERP software vendors in the market have adapted solutions for startups looking to implement an ERP. Below are some of the most popular solutions on the market:

- NetSuite is a common choice of ERP for startups as their cloud solution is designed to grow with the companies using it. At a small scale, their dashboards and prebuilt reports allow startups to efficiently organize data and prepare reports for potential investors while tracking small-scale business operations.
- Sage Intacct offers financial management software in the cloud, allowing the flexibility and basic functions required by a startup. Combined with its ease of use and service-centric nature, many startups choose to begin and scale with Intacct. Intacct is well-known for nonprofits, professional services firms and strong basic financials.
- SAP Business One is a cloud ERP solution that provides standardization "out-of-the-box", making it an ideal solution for startups needing to implement fast and leave room for growth.
- Microsoft Dynamic Business Central offers a cloud solution that connects sales, service, finance, and operations teams to allow for efficiency and adaptability.
- Acumatica is a provider of cloud ERP solutions, making them a go-to solution for many startups. Their unique pricing model and scalability appeals to smaller businesses and startups who will continuously be determining their needs.
- Epicor Prophet 21 – price entry point is competitive for distributors who operate on razor-thin margins but need an ERP to automate the business while not overpaying for a Tier 2 product like NetSuite.

Fast-Paced Implementation

With all the general factors that go into starting a business, owners have no time to waste on lengthy ERP implementations that take human capital away from normal operations. Startups need a quick turnover rate, typically meaning that the software should come equipped with predefined templates or accelerators that speed up the process.

Usability & Experience

Startups tend to not have the time or resources to commit to extensive employee training associated with ERP implementation. The system they use needs to be intuitive so they can quickly bring on new employees and learn the system.

In addition, startups are beginning to find their footing in areas that can already be saturated by industry giants. To earn their competitive advantage and hire the right people, startups need to focus on the environment to attract the right candidates. Part of this attraction can come with the system the company is using to run its business. Startups can leverage their ERP system to attract and keep employees who desire new technology offerings, such as the Cloud.

Cost of ERP for Startups
While there can be a number of costs associated with ERPs, there are some basic costs that can be associated with ERP for startups and that should be considered by business owners before implementing a system. These costs tend to be licenses, implementation, and support costs.

ERP Software License

These are the costs associated with the platform being utilized. Most startups choose to go with Cloud ERP systems, but some may still choose to go with on-premises.

Cloud systems are paid for annually. That payment is classified as an operational cost, which typically includes software licenses, maintenance, and the hosting of the system. Fees vary from vendor to vendor and are generally based on the number of users, but this can change depending on the platform. With this information in mind, it is important for leaders to carefully evaluate and compare vendors.

On-premises systems require upfront costs to purchase the software license, which tends to drive up the costs compared to a Cloud system in the first year. The upfront investment does not include additional costs to run the system, including hosting and maintenance. Again, the costs are usually based upon the number of users and will vary depending upon the vendor, so ensure that you gather all the knowledge needed before making a decision.

Implementation Costs

The costs associated with the implementation of an ERP are based upon a number of factors, including the scope of functionality, the size of the business, and the overall complexity of the selected software. Costs also depend upon the implementation partner used as this can change the support needed.
Conclusion
The most important thing for startups to understand is, that if an ERP is not necessary, do not implement one. Time and money can be better-spent upfront in building the business to a point where you will require an ERP if one is not required right now.

If the startup is plagued by complex operations and processes, an ERP may be right for you, but ensure that all risks associated have been carefully examined. So much goes into a successful ERP project, so learn from the experts and make sure your timing is right before jumping into the ERP world.