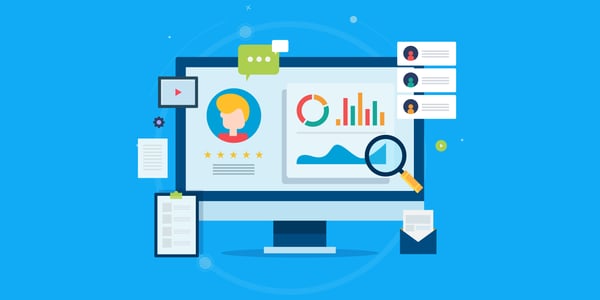 Setting your business up for success involves navigating different technologies that will get you there. When it comes to automating your business processes, ERP and CRM integration are two solutions worth considering.
But what is the relationship between ERP and CRM, and how can you decide whether to choose an ERP or a CRM solution? We will break down everything you need to know about these two different software offerings.
What is CRM?
CRM, or Customer Relationship Management, is a system designed to manage your interactions with customers. The purpose of CRM software is to prioritize the customer experience by finding ways to keep your existing and potential customers happy, allowing you to better nurture leads and push people to close business. CRM software gives you instant access to customer data when you need it most and provides key functionality, including:
Organizing leads

Automating sales and workflows

Integrating email

Managing the sales pipeline

Managing leads and prospects
Other useful features to look for in CRM software include data reporting with analytics overview, and sales forecasting to understand better sales metrics to determine where your business is headed in the future.
What is ERP?
ERP, or Enterprise Resource Planning, is designed to improve the overall efficiencies of your business. These systems are useful in gathering and sharing information and resources across all departments so there's an all-encompassing view of the entire enterprise. Using data-driven insight to take action allows your business to successfully streamline its processes in real-time. Some of the key features of ERP include:
Sharing business data in real-time

Alerting employees about potential issues in the processes

Managing benefits and payroll information

Creating and implementing business strategies

Processing orders
It's important to note that some ERP systems have a built-in CRM component, but CRM software never includes ERP.
How to Choose: ERP vs. CRM
The main difference between ERP and CRM is management focus. CRM delves into customer experience organization while ERP focuses on managing processes throughout the entire business. Deciding which option makes the most sense for your business depends on your current operations and future goals.

CRM, at the forefront, is essential in tracking customer interactions. This can help a great deal in the evolution of the business. As your business matures and you start to achieve higher volumes of leads, sales orders, purchasing, planning, forecasting, and accounting, that's when it's time to switch to an ERP platform that can navigate all of these processes together.

Still not sure if you need ERP or a CRM? ERP Advisors Group can assist. Our independent ERP consultants can break down your wants and needs to determine if an ERP is suitable for you. We know you don't have time to evaluate all of your ERP and CRM options, but we do. We can help pair you with the perfect software solution that gets you to your bottom-line goals.
Contact us to learn more and get started today.
Looking for more information? Click the link below to download your own CRM guide.