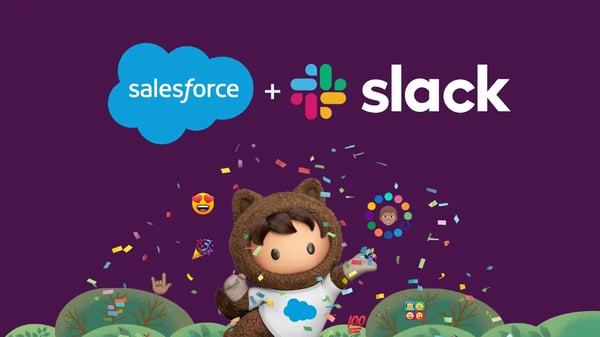 Image credit: salesforce.com
On July 21, 2021, Salesforce completed its acquisition of Slack Technologies, Inc. in a move that should serve to strengthen both entities. As the self-proclaimed "#1 CRM platform in the world," Salesforce has expanded beyond marketing and sales into eCommerce and IT. With apps that can automate many functions, organizations can be more flexible and cut costs.
Salesforce became even more relevant when the workplace shifted to working from home — where more people than ever were working off-site and coordinating operations from multiple locations.
Slack will fit seamlessly into the Salesforce platform: as a communication application designed with an organization's needs in mind, it allows users to keep track of and communicate about entire projects. The ability to collaborate through Slack helps Salesforce enter other areas of business because they have a ready-made software platform.
We decided to take a look at this new development, and what we've found is promising — not just for Salesforce and Slack, but for enterprise software vendors as well.
What This Means for Slack: Better Security?
Now that Slack will be built into the Salesforce software stack, we are predicting that this will enhance the user experience for all Slack users.
One major concern many people have had with this type of application is the overall security, including enterprise security. If a couple of individuals are Slacking, or even a few people within a small firm, there's not much reason for concern. But larger organizations must be concerned about the interchange of enterprise data.
Previously, it would have depended on the security of the firms in question; namely, the security of their enterprise software. And if the enterprise vendor did not invest time in cybersecurity, it might have been very easy to access sensitive data through Slack.
On the other hand, Salesforce is already dealing with some of the toughest security requirements in the world because of their work with organizations such as the U.S. Department of Defense. Now they can build an infrastructure around Slack which will add to what Slack is today and layer in business continuity plans on an enterprise scale.
What it Means for Salesforce: A Better Overall CRM Platform
The Salesforce acquisition of Slack foretells good things for them as an organization. With billions of dollars of resources available to invest, they are likely to buy more of these types of point solutions.
While Salesforce may have tried to distance themselves from the enterprise world, there is no doubt that they are making their platform more functional by purchasing a tool like Slack.
By investing billions of dollars into a new software solution, they are also entering some new markets. Salesforce doesn't want to simply be thought of as the same old CRM people have been using for a while. They have lots of integration partners who are building some excellent apps into their platform.
With this move, Salesforce is essentially invading as many markets as they can. It gets them into the developer world, it gets them in with more technical organizations, and we wouldn't be surprised if we saw them doing other kinds of offerings as well, such as Dev Ops tools.
What It Means for Enterprise Software Vendors: A Better Future
Now that Salesforce has purchased an app to assist with office productivity, we are bound to see other software vendors making more plays in the office productivity level as well — such as Oracle, or SAP. Rather than just sticking to back office automation, they will also enter the end-user world to get more of these solutions automated.
As Marc Benioff, Chair and CEO of Salesforce, noted in the company's press release, "Together we'll define the future of enterprise software, creating the digital HQ that enables every organization to deliver customer and employee success from anywhere."
Previously, we saw that many point solutions were able to be created quickly and easily thanks to cloud-based platforms. Slack and programs such as Monday and Evernote were designed to resolve niche issues — while they met a specific need, they were focused on one specific problem.
But the Salesforce acquisition of Slack shows that enterprise software vendors aren't just looking at a traditional problem of CRM. The issues with CRM salesforce automation, customer support, and marketing automation have been solved. All those processes are already automated, so now what? Salesforce has shown the willingness to help with automated communications — and who knows what comes next.
In the future, we would expect that companies like SAP and Oracle would continue to explore the market for productivity solutions that people in the workplace are already using, in order to fold these applications into their portfolio.
This could end up being an important move for these kinds of companies. You never know when a niche product could suddenly be needed by everyone. Before COVID, not many people were using Teams. Then suddenly organizations needed to move onto a collaboration platform, and as Teams was already built in for those using Microsoft, they just went ahead and used it.
A considerable amount of technology has been focused on finding the next exciting solution to the next productivity issue. But companies like Microsoft, Salesforce, Oracle, and SAP can solve the distribution problem. They can take a solution that a select group of people is using and then suddenly make it available to hundreds of millions.
We think the Salesforce acquisition of Slack is just the beginning of a greater movement, where large enterprise players will start buying up smaller applications to improve their platform solutions.