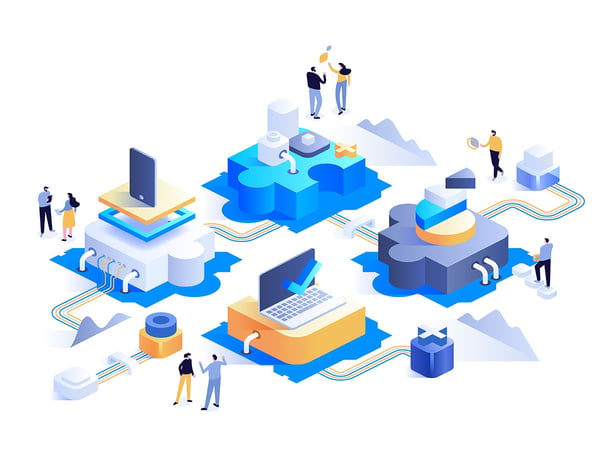 Exchanging information back and forth from your NetSuite instance to external software systems is a vital component to fully realizing the functionality of an ERP.
To determine which integrations you need for NetSuite, you must look at the ecosystem that your business or organization operates in, including all the parties your company interacts with on a daily, weekly, and monthly basis.
Here are some must-have integrations to make your NetSuite implementation a success.
1. Bank Integrations
One of the most crucial NetSuite integrations you will need is to your bank. The ability to bring financial details from the bank into NetSuite for reconciliation is critical. There are also other important pieces of data that will need to be sent to NetSuite regarding payments, such ACH or wire payments. To ensure your company runs as efficiently as possible, having NetSuite integrate with your financial institution is a must.
Also, if your organization uses specialized banking features such as Positive Pay, which allows you to pre-approve checks before they are cashed and prevent check fraud, you will need to make sure these are integrated with NetSuite as well. Or if your bank utilizes a lockbox system to accept payments directly from your clients on your behalf, this will also need to be integrated.
2. Payroll Integrations
You will need another NetSuite integration if you are working with a third-party payroll provider. With NetSuite you will be able to bring your payroll data directly into the system, preventing you from entering it manually. Depending on your current payroll system, you may even be able to see data in real-time, which is another helpful feature.
If you're currently spending a lot of time manually uploading data from your payroll system, you will appreciate the integrating payroll data directly into NetSuite. There are multiple ways to get the information into the NetSuite system, including placing files onto an FTP server so that they can be automatically imported. The method you use to integrate may vary depending on which payroll software you use.
3. Internal Integrations
While many NetSuite integrations connect with entities outside of your company, other kinds of integrations are going to happen internally. These kinds of integrations are necessary with other systems, like a separate CRM, purchasing or billing system.
For example, your company may have a manufacturing execution system with data that needs to be brought over to NetSuite for costing purposes. Or your organization may have a project system where you carry out a particular type of functionality, such as billing transactions. In such a case, these transactions will need to be sent to the NetSuite accounting system for billing.
4. Integrations with Trading Partners or Vendors
There are also trading partners or vendors that will require integrations, especially if you are a manufacturer or a distributor. Even retailers or e-tailers may have vendors or partners they would need to integrate into NetSuite to ensure maximum efficiency. Any organization that sells products manufactured by another company would find it helpful to integrate that manufacturing data with NetSuite.
It is possible to get this type of manufacturing data electronically from the supplier and then import it directly into NetSuite for budgeting, paying invoices and other functions. This could include receiving an electronic invoice from your vendor and being able to pay it within the system. Or your vendor could send an EDI document, such as an Advance Shipment Notice with all data regarding items that have been shipped, and this information could be dropped directly into NetSuite.
5. E-Commerce Integrations
If your company has an e-commerce platform where you offer an online product catalog, sell products, have customers create shopping carts and place orders, or accept payments, these functions usually lead to fulfillment in an ERP like NetSuite. To ensure orders are fulfilled properly once you have NetSuite implemented, you will need to integrate your e-commerce platform (or at least the fulfillment part of the cycle) into the system.
Keep in mind that you may need new integrations for every e-commerce channel you have, especially if you sell through multiple e-commerce platforms, or in different industries. If you have other third-party invoicing platforms that customers use to put invoices into your billing system, you will want to ensure this integrates back to NetSuite. You may also want to consider the NetSuite POS. There are many different online systems that may need to be integrated with NetSuite, and you will want to make sure all are integrated so that your system and processes run as efficiently as possible.
ERP Advisors Group has worked with many clients who have chosen NetSuite, and we can assist you with any of the integrations necessary to keep your business running in top form.