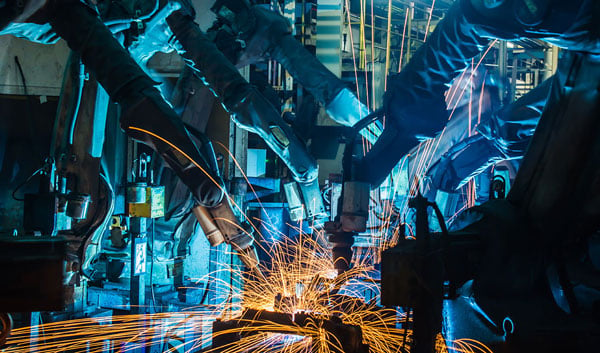 NetSuite rates well as a cloud ERP for manufacturers with foundational software that excels at managing planning, forecasting, engineering, supply chain, warranty and repairs, and order management. Where best-of-breed manufacturing ERPs can falter by focusing on excessive specialization, NetSuite is a comprehensive ERP software solution for the entire organization.
Even so, the variances in manufacturing processes from a plant or a mill to a factory or an assembly line demand an individualized approach to ERP selection for manufacturers. To evaluate NetSuite for manufacturing companies, we will first examine the different types of manufacturers and their processes.
What Kind of Manufacturer Are You?
If your company is a discrete manufacturer creating specific and distinct products, your requirements could be vastly different than those of a process manufacturing firm that produces food items, chemicals or plastics.
A mixed-mode manufacturer may have similar needs to discrete and process manufacturing, and yet this would also make their requirements completely unique when compared to each other.
Engineered to Order (ETO) can be dissimilar to other types of manufacturing in that it involves Computer Aided Design, Work Orders, Bills of Materials, Manufacturing Instructions, and Materials Sourcing and Purchasing — all before fabrication can begin.
Then there are the companies that specialize in contract manufacturing, creating products based on design specifications provided by another organization. This is yet another type of manufacturing with its own unique ERP requirements.
To evaluate NetSuite for your company, ask yourself the following questions:
Who are you as a manufacturer?
What are your key requirements as a manufacturer?
What processes are you trying to track?
What pain points are you currently experiencing?
Once you have answered these questions, you can begin to evaluate NetSuite manufacturing modules and decide if there is a good fit for your organization. It is vital that you begin by determining what kind of manufacturer you are. Then you can take steps such as viewing a scripted demonstration process to see how NetSuite could meet your needs.
Financial Data
As is true with any accounting software implementation, the integrity of the data going into the new software will play a crucial role in how well it is implemented. NetSuite features excellent core financials, but duplicate entries, missing information, and other data hygiene issues will not magically disappear upon shifting to a new system. Ensuring that your data is clean before moving it will help see a smooth transition.
CAD and PLM Systems Integrations
In-house design and engineering firms employing CAD software and Product Lifecycle Management systems can benefit from custom third-party solutions that integrate well with NetSuite. By eliminating errors from manual data entry, these integrations ensure that product information remains identical to work order documentation for enhanced quality assurance.
Documents: Work Orders, BOMs, Manufacturing Instructions
Mapping your organization's entire manufacturing process will help equip your NetSuite configuration to fit your systems, procedures, and equipment. This in turn will streamline the creation of work orders, BOMs, Product Requirements Documents, Manufacturing Build Packages, and other vital manufacturing documentation.
Manufacturing Execution
Another important factor is your manufacturing execution system requirements. This could include tracking material going into a work order, labor going in, overhead going in, orders going to the shop, and other crucial steps of the process, as well as tracking the progress of this through each work cell on Netsuite Mobile.
Quality Control
Maintaining standards is another critical aspect of a manufacturing business. There are quality control functions that you must consider when deciding to implement NetSuite. Which parts of quality control will need to be tracked? Where will the reports go and who will be ensuring the products meet the standards set by your company?
Regulatory Compliance
Meeting regulatory requirements is a critical part of the daily, weekly, and monthly processes of most manufacturing companies and NetSuite has audit-ready solutions for regulatory compliance. As nearly all manufacturers have different regulations that must be met, you must ask yourself which regulatory requirements you are tracking in your current system and how they will be passed over to the new system.
Inventory and Warehouse Management
Raw material inventory, finished goods inventory, warehouse management cannot be overlooked. Examine your company's materials and products against what are you hoping to see from NetSuite: Will you try to simplify your manufacturing processes? Do you expect business to increase exponentially? Do you want to reduce expenditures?
Summary
NetSuite is well-suited for a wide range of manufacturing use cases. Beyond shop-floor-specific functionality for the details of work orders and CAD drawings, it has the flexibility to handle financials, order management, marketing, supply chain management, planning, and forecasting — for the entire organization.
ERP Advisors Group has extensive experience with NetSuite software implementations for manufacturing companies, and we can provide you with industry specific guidance. Contact us today for a free consultation with an experienced member of our team.