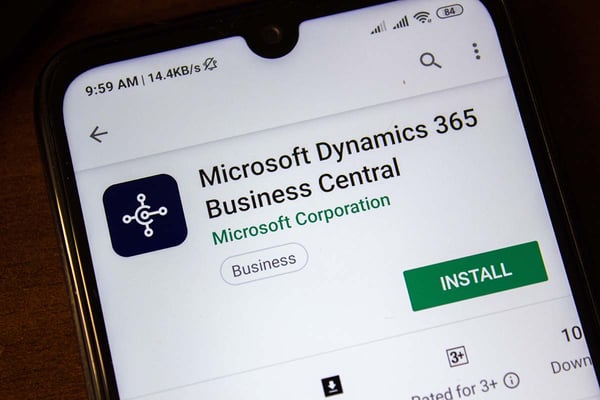 As a comprehensive cloud ERP solution for mid-sized companies, Microsoft Dynamics 365 Business Central is a competitive product that naturally integrates well with the Microsoft tool set, including Power BI, Power Automate, Office 365, Teams, CRM, and other modules and applications.
In this review of Microsoft Dynamics 365 Business Central, we examine the benefits of selecting this ERP system and provide insights from on-the-ground experience to help you determine if it will meet your organization's needs.
Competitive Pricing
Microsoft traditionally looks to avoid a significant return on software costs, making the initial investment for Microsoft Dynamics 365 Business Central very affordable. This lower price point allows smaller organizations to acquire a reliable ERP solution without overspending. We expect the price of Business Central to remain competitive for the foreseeable future.
Familiarity with Microsoft Ecosystem
The Business Central dashboards have many of the same features of Microsoft consumer products, such as Windows and Office 365. It has a familiar look and feel that is similar to legacy Microsoft ERP products such as Microsoft Great Plains and Solomon. MSD 365 BC also integrates seamlessly with the rest of the Microsoft 365 toolset, so that users can easily transfer data from products like Excel and Outlook.
Robust Core Functionality
Microsoft Dynamics 365 Business Central comes with built-in tools to address multiple business processes. The Customer Relationship Management software (CRM) includes features such as contact tracking and sales pipeline reporting that can meet the demands of most mid-sized companies. The core financials and accounting software can handle the finances of organizations ranging in annual revenue from $50k–$500k, as well as offering multi-currency and multi-company functionality.
Optimized for Manufacturing and Distribution
With roots in the manufacturing and distribution industries, Business Central continues to thrive in these fields. We feel that it is particularly suited for monitoring item production, as well as keeping track of expenses, time, and projects. Microsoft Dynamics Business Central also offers supply chain features such as inventory and warehouse management down to the bin level, along with pack-and-ship tools.
Substantial Partner Network
There are numerous Microsoft partners and VARs that specialize in Dynamics 365 Business Central implementation projects, and many have experience in specific industries and micro-verticals within those industries. For instance, you may find one of these partners who focuses not just on the manufacturing industry, but on high-tech manufacturing — or a partner that works not just with food and beverage, but with manufacturers of chocolate confections. Microsoft partners can also offer technical support should any issues arise with your software in the future.
Customization
Another differentiator with Microsoft Business Central is that independent software vendors (ISVs) have written industry-focused custom plugins for it. Whereas some of the newer applications on the market may not have many experienced ISVs, quite a few of these vendors have created software specifically for Business Central. Some of these ISVs have been working in the field for many years and have assisted multiple clients.
This experience has given ISVs data about best practices to follow and allowed their products to go through an evolutionary process, becoming more efficient with each project. These add-ons extend certain areas of the software to allow for more advanced functionality within industries, which in turn allows for customization and personalization that can greatly increase organizational efficiency.
Scalability
Microsoft Dynamics 365 Business Central is a reliable product for small- to medium-sized organizations that need a comprehensive ERP application — yet it is also a cost-effective solution that can grow with the needs of an expanding organization. We have seen larger manufacturers and distributors successfully use it for up to hundreds of millions of dollars in business. While Business Central may not be able to scale much larger than that, it can still expand with many different business models.
Flexibility
Thanks to the efforts of multiple ISVs, tools have been created for Business Central which can add tailored functionality to a wide range of industries. For example, we have seen ISVs who have created add-ons for food and beverage manufacturing, implementing tools that track everything from allergen segregation to safety and lot tracking.
Another ISV has created tools for the fashion and apparel industry that allow clients to rapidly generate SKUs for clothing items in multiple colors, styles, and sizes. Other ISVs have written industry-specific solutions that leverage the core distribution functionality in Microsoft Dynamics Business Central, including item purchasing, sales order entry, order fulfillment, and shipping.
Types of industries that can benefit from Business Central include:
Ecommerce
Manufacturing
Consumer Goods
Food Production
Fashion Industry and Apparel
Finance and Banking
Education
Gaming
Travel and Leisure
Food and Beverage
Summary
We believe that Microsoft Dynamics 365 Business Central can be an excellent choice for midsized businesses and organizations. At the same time, we caution our clients against making a decision without evaluating all available options. Whether you are already searching for a Microsoft Dynamics 365 Business Central specific consultant or are still searching for the best enterprise software products, ERP Advisors Group is here to help.