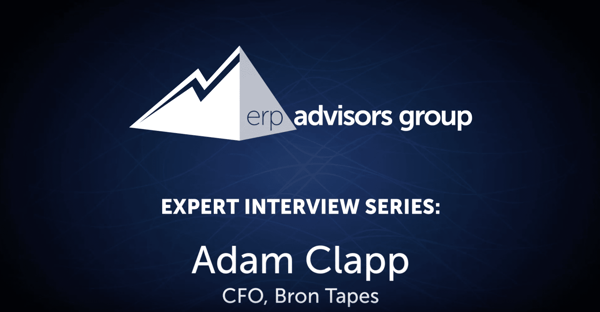 My name is Adam Clapp I'm the chief financial officer for Bron Tapes and Bron tapes is a distributor of industrial adhesives. The company has been in business since 1977, it's in nine different states and we distribute tape that you press down, pressure sensitive adhesives. We also distribute printed tapes and die-cut tapes in a lot of different industries.
Meet Adam Clapp
What made you decide it was time to look for new software?
It was a long process for us so we decided to make a change, I think every seven to 10 years is a good idea to take a look at new software and we were running up on 10 years with our current software. We have a lot of efficiency issues and we needed to make a change to help us grow, really.
What made you choose ERP Advisors Group?
So we chose ERP Advisors Group because they were professionals in the industry and that's the only thing they did. So we didn't want to choose a firm that had two or three other side businesses. They work with ERP's and that's all that they do. And we found them I believe it was just through an Internet search and the fact that they're local.
What services did the team at ERP Advisors Group provide?
ERP Advisors did a needs analysis, so they helped us decide that we did need a new system and then they helped us with the selection and they are actually helping us right now with the implementation. So basically through the entire project.
What were your goals or objectives for this project?
Our goals for making a change were mostly just to become more efficient. We have a lot of manual processes, we circumvented a lot of the controls that were set up with our old system and so we wanted to consolidate and we needed a system that would be there for us when we we're growing. So we're kind of in an expansion mode and the system that we had wasn't really going to help us get to that next level.
How did ERP Advisors Group help you meet those goals?
ERP Advisors helped us meet our goals for really becoming more operationally efficient by first helping us decide that our existing system wasn't going to work and then helping us find a new system. So there are hundreds of systems out there that probably would have worked for our business and any of those companies would have sold those systems to us. But ERP helped advise us to be able to find that perfect fit.
How did the EAG methodology help you learn more about your company?
So ERP Advisors helped us by first in the needs analysis interviewing. They probably interviewed 35 different employees and that's a good chunk of our company. So they asked questions about every single process and where the pain points were and they helped helped uncover a lot of things, issues that we didn't even realize that our employees were having. So that's how they helped us.
How did EAG help your company be certain that new software was in your best interest?
So they helped us be certain that we needed to make a change during the needs analysis and then during the implementation of the software that they helped us choose, it's a really extensive process so we went through many many many demos with lots of different people and they helped us determine that really there was kind of one system that was going to be a fit for us. So they made the choice pretty easy.