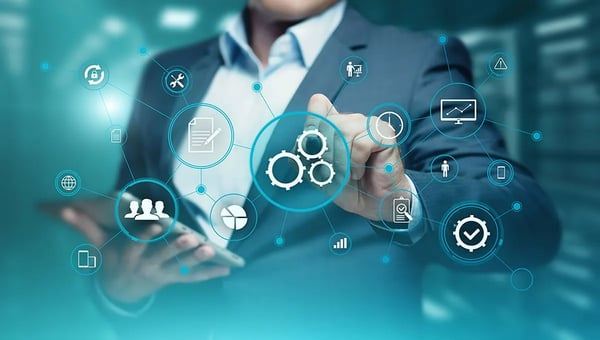 Enterprise Resource Planning software can deliver tremendous value to your organization. Yes, an ERP software platform can help automate your business and save your employees time, but it's about more than that. The right platform can improve your business and add enterprise value to your organization.
Driving Enterprise Value
When you make the decision to implement an ERP software strategy, you're likely doing it for a multitude of reasons. Perhaps your current system is outdated and in desperate need of replacement. Or maybe you have an employee driving the change.
An ERP software strategy helps you create long-term enterprise value. But achieving ongoing value doesn't happen overnight. Once your ERP system is in place, it takes time for employees to use the system to its fullest potential. Teams start to work together in new ways, and you'll find everyone in your organization reevaluating their processes. The result is impressive, but it does take good planning upfront and time after you've gone live to see the return on investment.
One of the most compelling reasons companies decide to select a new ERP platform, however, is because they want to drive enterprise value. Here are several benefits of ERP software and how it can boost organizational value.
Integrating separate systems
Perhaps the most obvious way an ERP system can make a tangible difference is the way that it integrates your essential business processes into one system. Historically, businesses have relied on separate systems for accounting, sales order management, human resources, and customer relationship management. With an ERP system, these systems are housed under one roof—so work gets significantly easier.
Streamlining your processes
No longer will you waste time sharing data multiple times. Instead, you'll have a central data system that everyone in the enterprise can reference. That means reduced time on just about every process you have and more time for analyzing data and making better decisions.
Eliminating redundancies and errors
This goes hand in hand with the above. Because an ERP system centralizes your data, that data isn't reentered multiple times in different systems (which can result in errors).
Giving you insight into your business
If there's one word that encapsulates the many benefits of an ERP system, it is "efficiency." An ERP system helps you run your business much more efficiently. You can see information from all different areas of your operations with a few clicks. That helps you see both the big picture and the details in the same screens and reports. It's easier to analyze, draw logical conclusions, and make decisions more quickly.
Helping you keep customers happy
ERP systems enable higher levels of customer satisfaction, bottom line. Because information is centralized, it's easier to make the customer experience more effective. From sending out automated messages to offering different promotions to top clients, customer relationship management technology within your ERP system facilitates positive customer interactions. Put simply, you can easily look at every single customer relationship and find ways to enhance communications and offer greater value to those customers.
An ERP system is a big investment
Implementing an ERP platform is a big investment of time, resources, and money. There are many people in and outside your company that are involved in such a project, including both your own employees and outside consultants. Then there is the financial investment in the software and the technical resources behind it as well as the amount of time it will take to implement and go-live.
When does ERP pay off?
It's a legitimate question that you absolutely should be asking. Here are the typical phases we see with the ERP implementation process:
Phase 1: The software is running on the new ERP software.
Phase 2: The "burn in" period, wherein everyone company-wide is really using the system extensively.
Phase 3: Post-burn-in (run) period, during which technical teams operate the core business operations systems in the ERP system.
The real magic begins when businesses can use application data. And the real value of an ERP system comes when you've gathered data and can utilize and leverage it to improve your business. If you're in manufacturing, for example, your ERP software will allow you to automate the shop floor, collect data on how things are working, and engage in advanced planning and scheduling. Later, you can manage performance, forecast, do better analytics, and even build out some business process automation solutions.
You could give up company value
There's another way to look at the value that an ERP system provides for an organization. If you were to sell the organization today, a dilapidated ERP system would likely require that you discount your sale price. That means less in your pocket when you sell. And the opposite could be true as well: if you implemented an ERP system, you might enjoy a much higher sales price.
Think about enterprise value when you consider a new ERP system
Implementing an ERP system might seem like something that has immeasurable benefits, but the truth is, you can absolutely see the tangible enterprise value. If you're not taking the time to map your ERP implementation back to something that creates value for your organization, you're doing it for the wrong reasons.
We know that the decision to implement a new ERP system isn't an easy one, and we also know that it isn't as easy as it sounds to build enterprise value with a new ERP system. Questions? Contact the team at ERP Advisors Group today for a free consultation. We're here to guide you through it!