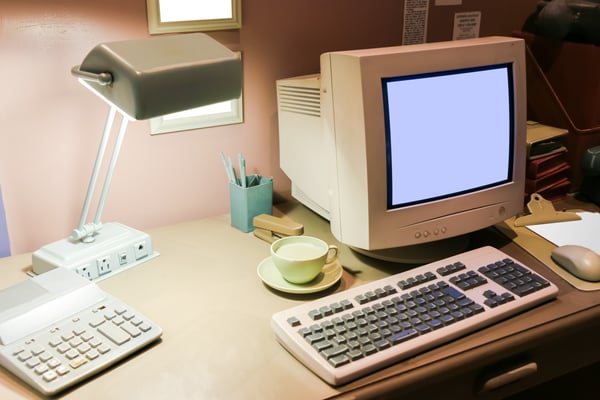 Rounding out our menu of legacy software reviews, we welcomed Jim O'Donnell of TechTarget to discuss Deltek legacy applications.
Rounding out our menu of legacy software reviews, we welcomed Jim O'Donnell of TechTarget and his 30 years of expertise in covering a wealth of technical fields as a writer and editor. Among others, we discussed Deltek ERP legacy applications, and here are our takeaways.
For a word of backstory, Deltek was founded in 1983 by a father-son duo and was originally developed for project-focused companies. Deltek's company history has been marked by successful adaptation to change and development. What the company originally delivered as its first system, Deltek Government Contracting System, has been renamed twice since its creation and now exists as Deltek GCS Premier. This development and others like it have established a reputation of adaptability and adherence to the ever-changing market.
Over the years, Deltek's target market has expanded, so that today their ERP solutions are designed for a variety of industries:
Aerospace & Defense
Architecture
Construction
CPA & Accounting
Energy, Oil & Gas
Engineering
Government Contracting
Infrastructure
Management & IT Consulting
Marketing Agencies
Nonprofits
Deltek Legacy Software
When the time comes for CFOs to confront the reality that their companies are running on sunsetting legacy software, they may be forced to consider other options available on the market. In the case of Deltek, construction and engineering firms are having to make a tough decision: should they upgrade from Deltek Vision software to VantagePoint? Or completely transition to a new software provider?
Deltek has outlined a workable migration path for such upgrades — however, we have observed that many companies are choosing to completely move away from Deltek and consider other applications.
This is particularly significant because Deltek software has a solid customer base, so the question must be asked why organizations are abandoning Deltek as their provider.
It could be argued that engineers and other common Deltek users simply do not like to be told what to do. Faced with an ultimatum to update, it is possible that rather than upgrading existing software, AEC businesses are choosing to pave their own path regarding their next ERP venture.
It seems obvious that an upgrade is typically simpler — and less expensive — than a completely new ERP implementation, and this holds true for Deltek legacy software. Opting for an upgrade provides an added level of security regarding data migration since the data is transferred from within the same software.
One principle holds true: every organization is different. It is of the utmost importance to evaluate all available options in order to make rational and measured decisions about your company's enterprise software. At ERP Advisors Group, we never recommend an upgrade unless it is absolutely necessary, and we work with businesses across a wide range of industries to help them determine the benefits and risks associated with different ERP solutions. The right ERP consultant will guide your business in selecting the best-fit solution from an unbiased and objective standpoint to determine whether an upgrade or change is right for you.
If you need assistance evaluating Deltek products and examining other ERP vendors and implementation partners, we offer a free introductory ERP consultation to help you determine your best path forward.