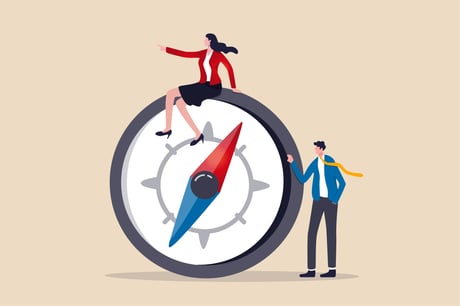 A majority of ERP implementations fail due to a lack of knowledge of what the ideal scene should look like because a company rarely replaces its own ERP. Failure occurs from not knowing how the requirements gathering stage should go, or how any other stage like walkthroughs, testing, training, data migration, and much less go-live should run. However, with the right advisor, your team can sidestep becoming a statistic of failed implementations. In this episode of the ERP Advisor, Shawn Windle breaks down what role a client-side implementation consultant plays and how they are not the same as the implementation partner or the internal client PM.

Defining the Role of a Client-Side Implementation Consultant
Client-Side Implementation Consultants (CSICs) play a pivotal role in the final, and most challenging, stretch of an ERP project. Clients assume the vendor is going to do everything for them, which creates false expectations, miscommunication, and ultimately, failed implementation efforts. However, the right CSIC can help ensure a straight path toward a successful go-live. They are strategically positioned between the client and the implementation partner to direct and guide the project to avoid any pitfalls that may arise. Despite the myths surrounding the CSIC, they provide undisputed value to any ERP implementation and lead companies toward a successful go-live.
Common Misconceptions Behind the Role of Client-Side Implementation Consultants
Implementation partners are going to do everything for your project.
Many clients believe the implementation partner is going to handle everything during the implementation. However, most partners won't manage client aspects of a successful implementation, such as data migration, or the creation of detailed training or testing documents. This process is extremely demanding on any team, especially relating to the time and money invested in an ERP project, so it helps to have an experienced consultant on your team to ensure that even the smallest details are remembered, managed, and completed.
Somehow the staff will just "handle" the extra workload.
In the 1990's, businesses had more employees than they knew what to do with. There was an abundance of labor and resources a company could utilize to ensure they met their goals. In today's market, especially in the tech sector, businesses tend to have fewer employees as they utilize technology to trim less value-added work. As a result, employees have less time to devote to special projects like an ERP upgrade. Many businesses turn to CSICs to fill their labor gaps and provide expertise a full-time employee would otherwise have to develop in their free time. Regardless of whether you utilize a CSIC, you must backfill or at least incentivize the employees working overtime to deliver for your project, or else you will not see the desired results and risk burning out some of your greatest assets.
The idea that you MUST do this project alone.
Despite this common misconception, there are resources available in the market to assist you in realizing your ERP implementation goals. Working towards a successful ERP go-live is a demanding task that requires significant attention and software knowledge. Delegating the tasks that require a specialized skillset to a client-side implementation consultant will replace the common anxieties and fears with confidence that you have an expert in your corner. If you are looking for an independent and objective consultant to lead you and your team towards a successful ERP go-live, follow the link below and schedule your consultation today!
How can a CSIC make a difference in projects where the client team is already busy?
CSIC's create an immediate impact on any implementation especially when the key client personnel have full schedules. Their value can be categorized by the four roles they play throughout the implementation phase and beyond.
Project Coordinator
The CSIC executes project management functions in their role. Project Coordinators attend design sessions and by documenting key things mentioned, can create client-specific deliverables which the vendor will not provide for testing and training purposes. Project Coordinators also can track budgets, create status notes to keep stakeholders up to date, generally keep meetings scheduled and organized, and maintain and follow up on issues and tracking tools.
Implementation Consultant
Experienced implementation consultants who have been through many ERP implementations, may not only provide project coordination but can act as a business analyst and provide business oversight to avoid common pitfalls. Implementation consultants bridge the gap between the client's lead and the implementation partner by helping the client answer difficult questions posed by the vendor, mediating differences of opinions among Subject Matter Experts about scope changes, data migration decisions, configuration options, and generally providing business advisory help at each stage of the project. Ultimately, they can take the "brunt" if a difficult decision must be made, which protects the client lead from "being the bad guy" with his staff.
Data Migration/Technical Lead
CSIC's are also responsible for overseeing the technical lead throughout the implementation process and beyond. Whether assessing the data migration requirements, setting up dress rehearsals before the go-live, or providing admin oversight, the client-side implementation consultant plays a pivotal role in reducing technical confusion between the client and the vendor while also ensuring all extraction, cleansing, and transformation of data has been completed properly.
Project Sponsor
The CSIC's project sponsor hat is a visionary role that guides the project toward implementation success. The project sponsor oversees the entire project from initial needs analysis to selection through go-live. They act as the lighthouse for the ERP project to steer the client far away from the rocky shoals of battered ERP implementations. They are there to identify the problems and foresee where the obstacles may emerge over the course of the upgrade.
Why do clients invest in Client-Side Implementation Consultants?
It's no secret that ERP projects are complex. Companies invest tremendous amounts of time and money to achieve a successful ERP go-live, and the last thing they want is for the project to go off the rails – or even worse, have the project fail! Just like if you were to be the general contractor for building your own home, there are a plethora of questions and concerns you would have if doing it alone. Working with a CSIC at an advisory firm helps eliminate many of these concerns by providing structured direction to your business needs, what software to select, and how to properly implement the software on the right gradient for your company.
What should you expect from your CSIC?
Your expectations will define the experience you have with your CSIC. The level of resource constraints your company will determine the level of involvement you need from your CSIC.
Some CSICs may only provide an owner's advocate role where they advise the client project leader while letting the client's team manage the day-to-day tasks of their implementation. The CSIC will handle and analyze risks, keep a close eye on the project's direction, and always stay two steps ahead of the client. With more involvement, the CSIC may provide project coordination, budget tracking, executing the cutover plan, and more. The client may need someone to help them through the implementation phases such as the analysis, design, walkthrough, testing, training, and go-live, and the CSIC is there to ensure the client has their needs met while working toward reaching the goals for their ERP.
Conclusion
CSICs fill in the gaps between the client-side project manager and the implementation partner to assist the client towards a successful ERP implementation process and go-live. ERP software is a significant investment, and companies need to get it right the first time to avoid burning out team members or wasting money and time. CSICs have a versatile role that can shift and change depending on the client's needs and the size of the implementation. A CSIC can bring peace of mind and be your "insurance policy" to ensure you make it to your goal of a usable ERP that will transform your business and help you realize your goals for new automated solutions.