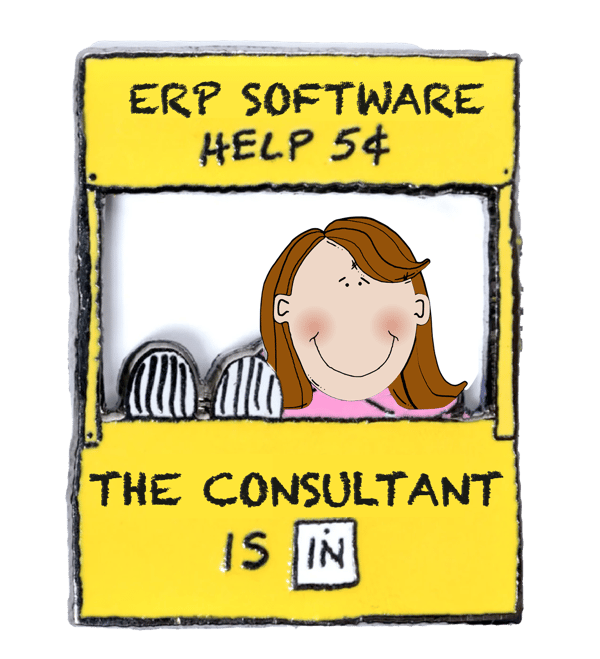 Do you know what questions to ask when vetting an ERP selection consultant? We have fielded thousands of calls from people who are beginning their software change process — and it is vital to ask the most important questions on the introductory call.
Most of our clients are referrals from CFOs, private equity companies, former clients, prospects, and even software vendors, so the conversation dives right into the heart of their need for assistance. Through these experiences, we have accumulated a list of the questions people are asking and those they should be asking (but aren't).
ERP Selection Consultant Vetting Preparation
First and foremost, it is important to identify what you really want from a potential consultant. Many companies believe that their ideal ERP consultant must be an expert in their industry. Unfortunately, industry experts are not necessarily consultants or ERP experts. This is a great route for large enterprises that can afford the top, industry expert consultant because that niche expertise could be invaluable to the company. However, a consultant with ample ERP experience could save hundreds of thousands of dollars for smaller enterprises. ERP experience is vital, and finding a consultant who is transparent about that experience could mean the difference between ERP project failure and success. While ERP selection consultants may not be experts in a specific industry, they know ERP and will be able to guide your business to the right solutions based on your requirements. The results from someone who will consult with you can be vastly different than an industry expert who only directs you from their personal past experiences.
Here are the five most important questions to ask an ERP selection consultant:
How long does a software selection and implementation take?
How much will software and an implementation cost?
How much will it cost to have you help with the selection?
Do you offer help during the implementation?
And most important of all: "Are you objective?"
This last question, "Are you objective?", comes with an imperative warning: you must find out if the ERP consultant sells software or takes commissions for any of the software or services the client purchases. You can clarify with the salesperson how their firm gets compensated.
Some consultants pretend to be objective because they sell more than one software application, such as Microsoft, NetSuite, and Sage Intacct. But beware: it could mean you will be purchasing one of those solutions regardless of whether it's best for your company because they will not evaluate any other applications outside of what they sell. They say they are objective but, in reality, they are NOT.
ERP Selection Consultant Methodologies
Having the right advisor in your corner will bring you the confidence you need at each stage of the ERP selection. While purchasing software is somewhat of a transaction, advising executives on the process is not; hire someone who not only instills confidence and has demonstrable knowledge of your industry, but is enjoyable to work with.
Some consultants start by gathering requirements and then launch into software vetting, without verifying what the company actually needs. This can deprive your company of understanding the opportunities for automating software across your business. For instance, a Controller wants to migrate to a more modern Financials application. But if they do not consider how the software and spreadsheets of their Construction business are working, they may miss the opportunity to buy a slightly better software solution that could improve the entire business and not just Accounting.
Some consultants are just too academic and granular with requirements gathering. Their focus is so narrow that they miss the big picture of how the overall solution can or cannot serve your business. Packaged solutions are ultimately the average of what a company needs and there is no absolute perfect solution. So your ERP advisor should help you vet software that is suitable for your industry at the macro level but can handle your unique requirements without heavy customization at the micro level.
Navigating the Sales Process
The sales process can be nerve-racking, especially for companies who have never confronted an ERP upgrade. When working with experienced sales consultants, they will lead you through the process on a gradient. That gradual process helps you and the consultant determine if the partnership will be a good fit for both parties. We advise against bypassing this natural "get to know you period" with an RFP process. RFPs may work for buying commodities but not for hiring a consultant. The biggest thing is to like the people you will be working with because who you are building a new ERP system with makes all the difference. They will be advising you on major changes to the landscape of your business, technology, risks, and costs. You cannot vet a person capable of that through a blind RFP process.
You may not have any idea what kinds of questions to ask a consultant! That is why we wrote this blog to give you many prompts that can assist you in gathering information you should know.
At a high level, the sales process will begin with an introductory call, where both parties can vet their initial requirements and fit. From there, the sales consultant should coordinate future meetings to provide you with more information on the process, not just meetings where both parties are spinning their wheels. During this time, a good consulting firm can rapidly provide you with high-level cost estimates even within a couple of calls.
The best independent ERP consultants will provide you with the following deliverables during the sales process:
High-level cost information for their services, including software selection and implementation project management.
All-in high-level software and technical implementation costs to ensure you are aware of the correct order of magnitude for a complete ERP project before hiring a consultant.
Timing of selection and implementation.
Meetings with top technical resources for scoping.
Introductions to trusted technical resources.
In-person presentations to your executive team in your office, on the consulting firm's dime.
A detailed Statement of Work, including timing, pricing, tasks, and deliverables.
Sample work products.
Introductions to our references for the final vetting step.
Complimentary working session.
Here are some BONUS questions we urge you to consider if you are holding a competitive selection for an ERP consulting firm. Our industry has some firms who over-represent their capabilities, size, experience, and, unfortunately, their results, and they do not have very good reputations in the market. The questions here will help provide you with some objective basis to compare different firms.
Do you accept any form of compensation from software vendors?
Do you accept any form of compensation from implementation partners?
How many years has your most senior person been doing software selections?
Is the owner still involved in the firm?
Will the owner be available to advise on the project?
What percentage of your revenue is from expert witness/litigation work?
What percentage of the consulting resources are W2, versus independent contractors?
Are there any staff on your website who do not actively work for you?
How many of your independent contractors work solely for you?
What three clients would you likely use as a reference if we select your firm?
What are the last 10 software products your clients selected and went under contract for?
Would you be willing to give references to software vendors who are happy with the selections they have been part of?
Give me an idea of paperwork I or my team would need to fill out for your process.
Who on your team has a formal accounting background?
Have your owners ever filed for bankruptcy?
We would be happy to answer any of these questions ourselves, as we are exactly who we say we are with respect to our size and ownership. We insist on an extremely high ethic level from management, as well as every individual in the firm, which is part of what separates us from the competition.
Why ERP Advisors Group is Different
In contrast to many other firm experiences, on your first call with ERP Advisors Group, our sales team will listen to what problems you are trying to solve and ensure it is the type of problem we can help you with. If it is, we will give you a high-level idea of the cost of our services. If we don't provide the service you are looking for, we will provide you with some ideas of other providers who can help, offering introductions if you wish.
Our experienced team will then line up the correct technical person to meet with you for a second call, to better understand the depth and technical nature of your problem. From there, we can provide a Statement of Work. Our approach is collaborative because we want to become the resource you turn to for all your enterprise software questions. Therefore, you should know that there are no high-pressure sales tactics or repeated phone calls from our staff after we meet.
Because company sizes and the footprint of software varies drastically, putting estimates in an introductory email would be irresponsible. However, you will get the answers to these questions on your first call with our sales team, and they will be tailored to the size of the project you are considering.
After an introductory call, you will find our process to be highly attentive, with fast turnaround times and a professional demeanor. When you work with ERP Advisors Group, you will receive "white glove" service, where we do everything for you, including providing logistics and calendaring for meetings.
ERP Advisors Group frequently wins clients because of our friendly, knowledgeable team but, ultimately, we win deals because we have deep experience working with mid-market companies and know how to assess and manage the risks and the costs you are about to embark upon. We want to be your advisor who will help you and your team to become absolutely certain you have made the right ERP decision for many years to come.