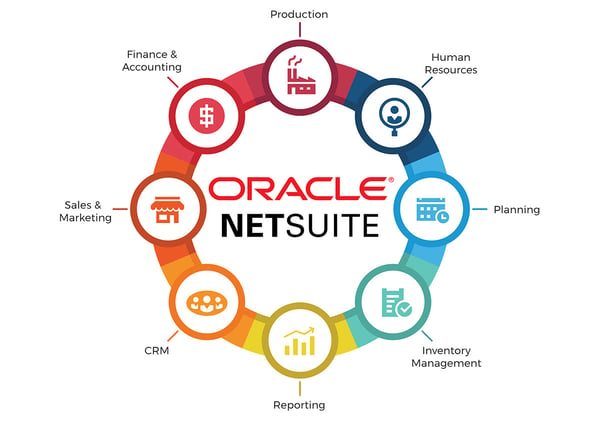 Whether you are a CFO looking to improve the effectiveness of your financial department, or a Controller in need of a better system for managing your organization's finances, you may have thought about NetSuite accounting software as a possible option. Here is what we found for why companies decide to upgrade to NetSuite.

Core Financials
NetSuite accounting software can help you update, create, change, and improve your company's operations. The core financial application allows you to stay compliant with regulations while managing important accounting and financial functions. It provides a clean overview of essential information while allowing users to drill down into details to resolve issues.
General Ledger
NetSuite's customizable General Ledger allows companies to fit the application to their needs. It offers reporting features and audit functions with the flexibility to manage an organization's finances on a global scale.
Accounts Receivable
The NetSuite Accounts Receivable solution allows finance managers to stay on top of company growth. The interface lets you automate and streamline the accounts receivable cycle, including sending invoices and managing collections.
Accounts Payable
A built-in Accounts Payable process saves time and increases productivity by helping you to automate tasks such as invoice processing and payment.
Tax Management
NetSuite's tax management feature lets you manage domestic and global tax compliance. The system includes uncomplicated reports that are relatively easy to use. The software is also conveniently set up with all global currencies and exchange rates.
In addition to the above, NetSuite also offers the following features:
Fixed Assets Management: This product assists with asset maintenance and insurance, as well as management of asset depreciation. It can support companies who need to track large properties, plants, and equipment.
Cash Management: This feature helps companies manage cash globally in real time. It gives your treasury department the ability to make strategic plans with the company's cash flow by providing reports to keep tabs on bank accounts, liquidity, and compliance.
Payment Management: Keep track of payments inside NetSuite, which provides access to disbursement data in real time. The product accommodates payments done through online sales as well as invoices.
NetSuite Accounting Software as a Cloud Financial Management Solution
Offering a software suite with numerous modules, NetSuite accounting software is suited for businesses seeking cloud-based financial management. Action items within NetSuite notify finance staff about urgent tasks (such as approving sales orders) and give them the ability to handle them without clicking away to another interface.
CFOs can monitor financial data from a corporate level or drill down to see the details of a particular invoice. Financial employees can also customize certain features — such as making changes to workflow and business processes — without having to call IT for assistance.
Key Features for CFOs
NetSuite Advanced Financials: Decrease manual work by automating billing processes. Customize billing schedules and templates and create automated invoices for different kinds of orders. Keep track of and bill contractual work as it is completed.
Expense Allocations: Monitor and allocate expenditures by type, account, location, or department. Enter expenses and allocations without the need to immediately assign them to a particular department or class. Includes pre-programmed reminders for processing allocations.
Budget Management: Compare actual costs to the original budget, in real time, using a single screen. The Copy Budgets feature allows you to copy one budget to create a new one, saving time. You can also report on numerous budgets at once with the Multiple Budgets Feature. A Budget Income Statement and a Budget vs. Actual Report come ready-made in the software.
Amortization: Keep track of amortization schedules, which can be automated to easily monitor amortization of assets over an extended period. Link amortization schedules to jobs to keep track of the amortization of a job's cost compared to its completion.
Statistical Accounts: Save vital non-financial data in accounts. Keep track of expenses by department, such as allocating a department's overhead cost based on the number of employees in it.
How a NetSuite Consultant Can Help
If you have questions about purchasing NetSuite, we can help. ERP Advisors Group has a long track record of experience in NetSuite consulting, and we can offer assistance with everything from the selection of applications through the entirety of the implementation project. Click here to schedule a consultation with an experienced member of our team to discuss NetSuite accounting software.