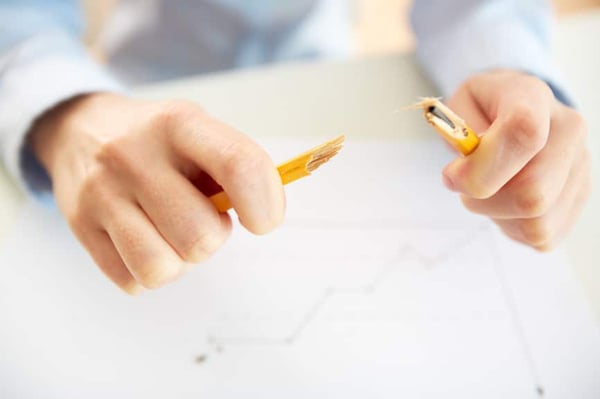 In working with clients, we have seen a repeating pattern of mistakes that businesses tend to make when they select their ERP software. So we made this list of the top 5 mistakes executives and businesses should be aware of on an ERP selection. (If you prefer listening to reading, we also covered these mistakes on our podcast above!)
In working with clients, we have seen a repeating pattern of mistakes that businesses tend to make when they select their ERP software. So we made this list of the top 5 mistakes executives and businesses should be aware of on an ERP selection. (If you prefer listening to reading, we also covered these mistakes on our podcast above!)
1. Too many stakeholders
One of the most common mistakes organizations make on an ERP selection is involving too many players in the process. Decisions by a committee will create problems not only in properly prioritizing requirements but also in establishing clear responsibility for the decision. Organizations are much more successful in deploying ERP software when the selection committee is comprised exclusively of stakeholders who are impacted most by the software, the people that are working in your ERP on a daily basis. One person on the team should have primary ownership over the final selection. This could be a CFO, Controller, CIO, Director of IT, or Operations head, but it should be THE person responsible for pulling all the data and ultimately make the final decision. A single person lead will alleviate some of the stress and make the selection process smoother.
2. An undefined scope
A large part of the ERP selection process is looking across the entire breadth and depth of the organization to see what workflows and processes can be automated with software, what areas need improving, and what exactly it is your business needs. In many cases, we see companies start the selection process with the assumption that they need an accounting software, but as soon as they examine their organization and its processes, they realize they actually need a CRM or some other solution. After performing an in-depth of analysis of the needs of the organization, we often find that the solution to an organizational or operational issue is not what the internal team expected. Things get even more confusing when potential software vendors are involved. ERP vendors are eager to sell their software, even if it's not the right fit for you and your organization's needs. That is why it is absolutely critical to know exactly what your needs are before getting bids and demos from vendors.
3. ERP fatigue
Organizations get ERP fatigue when they spend too much time juggling too many vendors and watching too many demos. Software can be very complex. After sitting through too many demos, they will all start to blend together, making it difficult to differentiate them. Then, people make the Beauty Pageant mistake and pick the best-looking software, regardless of functionality. The best way to avoid fatigue is to let a small group of 3 or 4 people conduct a mini demonstration with the vendors, and then narrow it down to the top candidates (2-3) to show to the rest of the team.
4. It's not just the software
It may be counter-intuitive, but selecting an ERP solution is about more than just the software; the implementation team and process are equally important. You need to make sure there are experienced people running the implementation, that understand your industry, and understand the solution. These people must be available to work on your project and they must be interested. Even if you choose the right software for your business, the wrong implementation team can cause budget overages, missed deadlines, and justifiably frustrated stakeholders within your organization.
5. Budgeting is not an accurate cost of ownership
The final mistake businesses make on an ERP selection is that their budget does not depict the total cost of ownership. There are other costs associated with the project such as the implementation partner, or the team running the implementation:
There may be a need for scripting in the case of custom requirements or complex integrations,
You may need project management on your side,
There may be a data migration cost to extract and massage the data or,
Costs associated with your network structure including network connectivity, devices, etc.
All of these costs need to be included in the project, and often times are left out which results in an over budget case. You can mitigate this issue by creating a contingency plan and keeping it under wraps. It sounds odd, but if vendors (or even your internal team) know about it, those funds will get used. A contingency plan allows for some leeway later on in the project and it's always better to come in under budget than over.
Similarly, just as organizations have difficulty properly budgeting funds to implement their ERP, they also tend to set unrealistic expectations for the implementation timeline. Of course, you should be aggressive in setting goals, but you also need to be reasonable so make sure you find a good balance. If your timeline is too long, other projects will end up competing for your attention — and your vendor(s)'s attention — and it will be difficult to sustain the project as a priority throughout the duration of the implementation process. If your timeline is too aggressive, you'll find that you haven't properly allocated for the "unexpected" that tends to come up in any software deployment process. We have found that if you run your implementation in a series of really short phases, you can maximize forward progress while minimizing the impact on the company and ensuring that the right people have your undivided attention when you need it. These bite-size pieces then require fewer resources as well.
Summary
Avoiding these 5 mistakes when selecting your ERP software will definitely help the process run smoothly — but your project will STILL fail if you do not line up proper resources for the implementation process. Make sure you've engaged the key people that know your processes and know how things operate on a day-to-day basis to run your implementation. Of course, these may be the busiest people in the company, but they know the most about your organization and need to be working closely with the implementation partners during the process.
Contact us today if you need help with your ERP selection process, and we'd be glad to help you successfully navigate your selection and implementation.