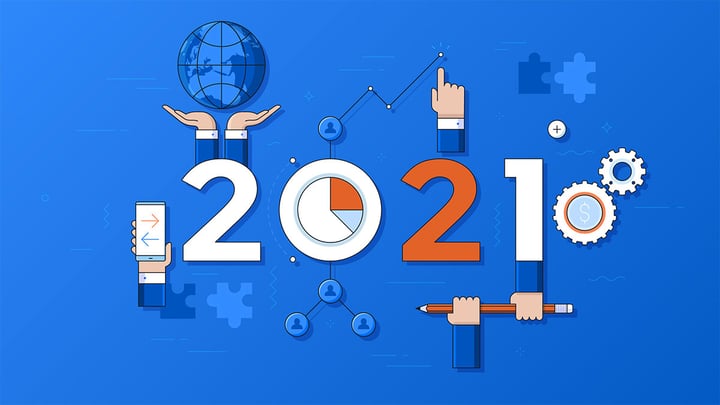 Part 1: The Lessons We Learned from 2020
A Special Report on ERP Trends for 2021: Part 2 of 3
Part 3: Alternative ERP Vendors to Watch in 2021
Check out our 2023 Trends and Predictions podcast here!
As we head into 2021, the ERP landscape has changed, and it continues to evolve. Coming off a year like 2020, it feels like an impossible task to forecast what might happen in the days and weeks ahead of us.
And while it may seem downright reckless or foolish to offer our predictions in the face of such unpredictability, we do see certain trends that can help our clients be better prepared for the year ahead. We want you to succeed, and in that spirit, here is our forecast for where we believe ERP is headed in 2021.
The Year of Best-of-Breed ERPs
The next evolution in ERP — and we think this will hold true for 2022 — will be a movement toward best-of-breed, niche-driven products. Industry-driven software vendors are getting more traction in the market, while clients are becoming more sophisticated and demanding more from vendors. Customers that have relied on generalized software are realizing that it doesn't always meet their needs. They want software that can support their specific processes, and there are more vendors that are building these out.
We think as customers' enterprise software knowledge and understanding continues to increase, they will find that a generic software product designed for a particular industry doesn't meet their precise and rigorous requirements. For example: a robotics manufacturer finds that general manufacturing software alone is inadequate, while a best-of-breed, high-tech engineer to order manufacturing solution does a better job of supporting their business and production needs.
Smaller Companies See a Talent Infusion
We are also beginning to see a trend of ERP professionals branching out to create niche applications in areas where they experience. They are also taking their knowledge and skillsets to smaller software companies that benefit from their expertise. And these companies are gaining popularity in the market because they have the solutions to service more specific clients. This is where the industry-specific products are being made, and where customers can get software that matches their requirements "out of the box."
The question is, how do the smaller companies differentiate themselves from the behemoths? They will need to cater to types of specialized applications that customers are now seeking. And that is another reason why we think best-of-breed ERPs will prevail in 2021.
Paradigm Shift to Remote Software Purchasing
We simply don't know when software salespeople will begin traveling to client offices again — if they ever will. And thus, we expect that companies will be buying software through an online vetting process for the foreseeable future.
But while picking software remotely has its conveniences, there can be disadvantages as well. It means that people will be vetting software in a virtual world, on a video call. How can you truly know whether or not the app works for what you need? It was hard enough to figure that out in person. Yet we have seen that buying remotely can still work when vendors know how to properly present their products and demonstrate the feature functionality.
tips for selecting and purchasing ERP software in 2021:
Never buy an application just because everyone else is doing it. Determine if it's what you really need. Don't over-rely on or over-buy technology in 2021 simply because everyone is working from home.
Create a clear, detailed business case to switch enterprise applications. If you can't find a definite reason to get new software, don't do it.
Do your vetting and be diligent in your selection process. This is always true, but especially in 2021. Don't just go with the first one you see — be sure to compare a few products. And be sure your vendor intends to continue supporting their products for years to come. Always have a scripted demo and watch carefully to ensure you are seeing the actual program in action — not just a PowerPoint or other type of mock demonstration.
For your ERP implementation, make sure your partner understands your business and knows what your requirements are.
Don't immediately go out and purchase feature-rich applications. Focus on getting core applications in place first, investing in automation improvements, and getting users through the change adoption curve. Then, phase by phase, you can add functionality on top of that.
Digital Transformation
In 2021 we are going to see more organizations — because of the prevalence of digital transformation — start to really look at their legacy, customized applications and make the hard decisions to do something about them. Our prediction is MANY more organizations are going to make purchase decisions this year, then we have seen in decades. Because we're seeing that the work from home situation has created sort of a forced digital transformation for many organizations and it has gotten even legacy IT departments more motivated to make new digital asset investments.
Will We See a Return to Normal?
We predict that things are going to settle down and everyone will be able to get back to business. And while there was a slow-down from an enterprise software perspective for a quarter or two, the industry is quickly picking back up. And we predict software vendors will get even busier as we get further into 2021. So get ready for a record year in the ERP software industry!
If you need guidance on our next steps for ERP selection or implementation, please let us know. Our expert consultants are ready to help.
For part 3 of our Special Report on ERP Trends for 2021, click here.