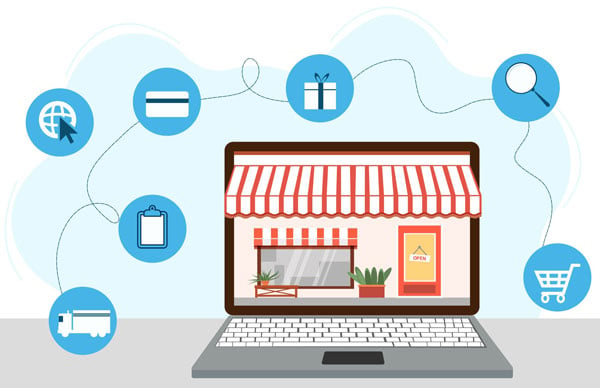 A surprising number of businesses and organizations have relied on in-person interactions to stay viable, leaving the question of e-commerce implementations for another day.
When the COVID-19 pandemic first brought the specter of economic shutdown into the mainstream consciousness, many businesses found themselves coping with an uncomfortable reality: "How are we going to survive?"
The harsh new baseline has illustrated a stark divide, where online business models cash in while traditional models fight to stay afloat. Organizations of every description have been forced to reconsider their e-commerce strategies, whether that means new implementations, optimization of existing software, or exploring ERP for e-commerce solutions.
E-commerce is no longer an option, it's unavoidable
We have observed some seismic shifts in e-commerce in the aftermath of COVID-19. To state the obvious: Businesses and even non-profit organizations can no longer rely on in-person interactions in the wake of a disaster scenario like this pandemic. From brick and mortar to the time-honored "traveling salesperson", operations in an economic shutdown must move online as much as possible.
Consumer shopping behavior changed rapidly as the coronavirus pandemic spread across the country, forcing businesses to quickly alter their strategies in advertising, customer acquisition and marketing. The pandemic has precipitated a wide shift in consumer purchasing behavior, such as customer bulk-buying, supply chain disruptions, a huge increase in panic buying, and so on.
One trend we are seeing is that more B2B companies are now considering e-commerce out of necessity. COVID-19 continues to have a big impact on B2B e-commerce, according to a new survey of about 1,000 executives and consumers from Bloomreach Inc. and Forrester Research. A sizable number of companies are increasing their spending on implementing ERP for e-commerce solutions, now that digital interactions have become several times more important to customers than in-person sales interactions — with a major movement toward a videoconferencing/phone/web sales model.
Supply chain disruption and inventory issues are also putting a strain on customer loyalty. These days all it takes is an empty shelf or an "out-of-stock" notification to lose someone who has been with a brand for decades.
For domestic companies, it has never been more vital to resolve supply chain issues and build an electronic presence, because we are seeing a trend where customers do not want to or cannot buy overseas.
How to find the right e-commerce solution
Finding the best e-commerce solution for your organization depends a lot on the complexity of your requirements. The best place to start is by establishing the exact needs for your business or organization and then establishing what tier of
e-commerce solution is going to be right for your operation.
Some questions to ask yourself can include:
Do you have multiple stores that share inventory?
Are there sophisticated discounts or time sensitive offers to worry about?
Do you have a loyalty program?
What about regional price discrepancies?
How sophisticated is your process of shipping, tracking, and returns?
If you are going to be doing any product advertising, you need to consider how your product catalog will be married up to your advertising integration, so that whatever is actually in stock will be visible in real time on your ads — because you don't want to be advertising something that's not in stock.
Establish whether you need a CRM integration to follow up on prospects or people who have bought something. Do you want to upsell them to a more valuable product or service? You will want to make sure your e-commerce platform can handle this.
Bottom line: The right software should meet the majority of your requirements without excessive customization or plug-ins.
If you have an existing ERP, you definitely want to find an e-commerce package which integrates well with it. This is a case where you are going to want to look at enterprise level e-commerce solutions. Some ERP systems are built for e-commerce, while others will need a custom solution, so this is an area where it is wise to hire an ERP consultant.
Is there an e-commerce solution for everyone?
Yes. What we do is find solutions for our clients. We advise companies on enterprise software, so if you want to find the right ERP for e-commerce, we'll find it for you.
There are a lot of sophisticated solutions available, and there are different tiers of e-commerce solutions.
There are differences between B2B and B2C selling that determine what functionalities your e-commerce platform needs to have. For example, businesses selling primarily to other businesses will need their e-commerce platform to address the following:
Corporate Account Management to segment customer groups (for example, to distinguish purchase managers from junior buyers)
Multinational brands operating across various countries, currencies, and tax regulations
Capability to deeply personalize your online storefront (e.g. branding, site search and navigation)
Detailed information such as product descriptions, videos, sales sheets
Dynamic pricing based on purchase volume or pre-negotiated discounts
Compatibility with multiple payment gateways such as PO, Check, ACH (Automated Clearing House) Direct Debit, Terms, Quote
Versatile shipping options with real-time delivery estimates
What about implementing your e-commerce solution?
When implementing an e-commerce solution, the implementation partner is just as important as the e-commerce platform you purchased.
For the implementation phase of an e-commerce solution, you must have somebody that is a design specialist in interactive digital marketing. Not just a technical person who knows how to make it all work, but somebody who can help you determine how to merchandise the products or services. They should be able to direct what the online brand looks like, oversee what kinds of promotions are used, and how the organization interacts with its customers.
There is an aesthetic to e-commerce that cannot be overlooked, so you need someone artistic involved in the implementation. This can often mean hiring a third-party interactive agency to help you design and configure your platform with the right look and feel for your brand. This ranges from broad questions of design and style, right down to the minutiae of whether you want one of those pesky pop-ups on your site. (As an aside, the reason they are there is because they actually work — annoying as they can be, they have been statistically proven to greatly increase the conversion rate of visitors on a website.)
In implementing your solution, try to recreate the in-person experience online. Envision that your e-commerce site is your virtual storefront: where your physical presence has a sign, your website has your logo. Just like walking into store with different sections or departments, a visitor should be able to enter your site, find what they are looking for and take their shopping cart to checkout without getting confused or lost. In a brick and mortar store, we all know where to go to find the checkout, and it should be the same on an e-commerce website. You want to make it as easy as possible for customers to pay for your products or services.
As an additional point on branding, the look and feel of your site should seamlessly mesh with your physical presence — because right now, e-commerce sites are having to replace that physical presence.
Commonly overlooked e-commerce considerations
There are several items that get tend to get overlooked on any new e-commerce implementation. The first of these is making sure to find a good web developer with actual e-commerce experience. This resource should be able to establish what your sales funnel is if you haven't already done that yourself. And even if you have, it is still good to work with the marketing agency or the web agency to actually figure out how you get people from the top of funnel — who have never heard of you before — as well as how to nurture hot prospects and take care of people who already know your product and are ready to buy.
One of the most commonly overlooked items is to make sure that you get your SKUs in order (Stock Keeping Units, or unique identifiers for individual products). If you don't have a simple, sensible system for your inventory, it will create a lot of problems in your online product catalog if a pair of black slacks get misidentified as a pair of off-white heels.
Another one is to ensure that your product photography, your meta tags and your descriptions for all of the products are professional, thorough, and detailed. You don't want to go back and do that work after your site is live. Do the work ahead of time, and if you establish a format or a system for tagging and descriptions, this will just make it easier when you add new products from that point forward. Another reward is that your site will rank better on Google, because descriptions, tags, and relevant photos (which should also be tagged) all help improve your search engine optimization.
Conclusion
The approach we take starts with defining what the ideal ERP for e-commerce would be for a given client. This can mean looking at order management in e-commerce, lead-to-close processes, order-to-cash, and to integrate with fulfillment, inventory, and payment systems. But don't forget how important it is for a website to have that aesthetic appeal which can lead to increased sales.
If you are looking for the best ERP for e-commerce solutions, we are here to help you, and so we provide free consultations to discuss particular needs and concerns.