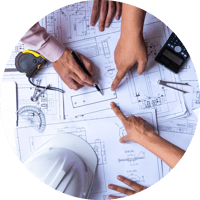 When we first decided we wanted somebody to help us with our ERP project, we had been thinking about and talking about ERP for two years prior to that. When we decided we needed help, the initial marching orders I was given were to look for a small organization or a single consultant, more so, because we tend to think of ourselves as a small business, even though we're not. We qualify as a medium business, and we present as an enormous business because of our complexity.

A part of why we decided we needed to change our ERP system was driven by technology and the fact that what we have is being sunsetted. I think we have three or four more years until it is sunset, but I wanted to do it on our own timeline and not because we had to. Ultimately, moving from the version we are on to one of the updated versions of the same software provider would be as much if not more work than just moving to another platform.

At the same time, there was another driving factor that came out of our annual strategic planning process. At one of the meetings, we decided there were enough broken processes that we really needed to fix them with an ERP system. There were too many old, disassociated, extremely inefficient processes that needed to be addressed. We knew it was time to get off of the version we were on because our hands were tied by it. We kept trying to put Band-Aids on it, but it just was no good. It was clear it was time to move on.

We are a kind of a do-it-yourself company, or traditionally has been. We're moving away from that though, with some hard lessons learned. I think the first couple years of ERP discussion, we really thought we were going to try to do this ourselves, maybe use our current support partner, development partner, and just stay with them and move into the new version of our system.

That really seemed like a foregone conclusion that that was the way to go, but we also, during that time, were building a new facility that was a major undertaking. We had hired a new management partner to help us oversee the process and transition. They took care of everything for us, even things we didn't know we were going to have to do because they knew it had to be done. We realized that was a teaching moment for us, that we needed a management partner to help us with our ERP project. We needed someone that's been through this rodeo before, so to speak.

Before bringing in ERP Advisors Group we had done our own internal needs analysis. We wrote up a 20-page document that captured everything we thought we knew about our business and needs. This helped us quite a bit when we started working with Carly and Quentin, as it gave us some idea of how to approach our project. We were very impressed with Carly and Quentin and their ability to walk us through the process.

We wanted to bring on a team that would walk us through our project and that's what we got with ERP Advisors Group. They asked intelligent questions about things, about our business, and about what we were wanting and needing our software to do. They asked us the hard questions, making sure that all the areas of the business were represented. In Quentin's case, he was really able to speak intelligently about what's out there in the market.

Quentin was good about steering conversations if we were going off on tangents, he'd draw us back on topic and help keep us focused. He clearly knows this stuff in terms of what's out there for all the various software options. We felt confident he was asking the right questions because he demonstrated to us the fact that he knows all the various products.

It wasn't an easy decision to select our new software platform and our implementation partner, but with ERP Advisors Group involved, we feel confident we made the right decision for our company. Had EAG not been involved, I don't think we would have come to the conclusion we did. I also have to say that the partner EAG helped us find, which I know they've worked with many times, has been really great to work with so far.

Holding no punches, before deciding to work with ERP Advisors Group, we had gone through this process with two other vendors. When we were courting EAG, we were also looking at the way EAG was courting us. What resonated with us was that Shawn recognized that we were presenting as a very complicated company when in fact we are not. Other companies we spoke with didn't see that and they were happy to treat us and charge us accordingly. So, talking money for a minute, because money is an important piece for sure, ERP Advisors Group prices were more reasonable overall.
Another piece that resonated with us was that we felt EAG was a company that was not going to be shy about telling us when and where we needed to re-evaluate things. They were honest about telling us when something wasn't right or wasn't a good fit. We knew we didn't just want a piece of software to cover all the processes that we have. This was an opportunity for us to clean things up. We needed to clean house and we wanted ERP Advisors Group to come in and tell us if something we were doing wasn't best practice or ask us why we were doing something the way we were doing it. They'd tell us if something was hugely inefficient or suggest another way of doing things. We appreciated that they didn't just tell us what we wanted to hear or give in to us because we were the customer. We valued their guidance and ability to see things from all perspectives.

Those two specific things, along with the technical prowess and the knowledge of the industry, the ability to use tools to keep customers on a timeline, set goals, and milestone clearly stood out to us. And, for the simple fact Shawn was able to say to us that we needed to streamline our processes across the board and start acting like the medium size company we are and not as the large company we were presenting as. In the end, it was the overall great attitude of the EAG team that really won us over.