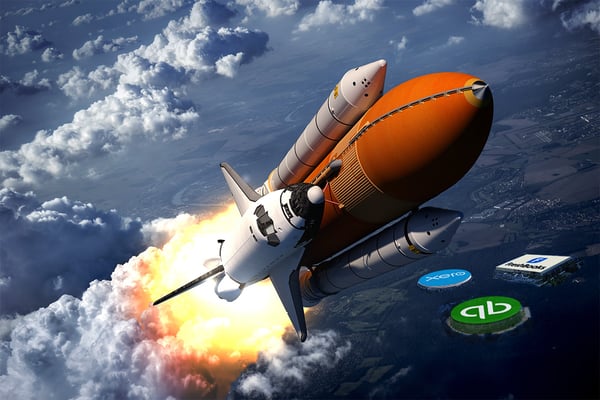 Many circumstances lead companies to the make the ultimate decision to depart from their existing accounting software. Maybe you have found yourself searching the market for an ERP for your organization.
Many circumstances lead companies to the make the ultimate decision to depart from their existing accounting software. Maybe you have found yourself searching the market for an ERP for your organization. We have created an easy-to-follow migration path for anyone looking to transition from their existing accounting software to an ERP solution.
Accounting software solutions such as Quickbooks, Xero, and FreshBooks are typically designed to service organizations with an annual revenue of $1m-$10m. Is your company surpassing that revenue bracket? If the answer is yes, it is probably time to upgrade.
Legacy technology
No matter the complexity of their systems, most ERP providers have some sunsetting software programs, meaning that they are no longer selling these solutions. The reason for this is most often because the provider is encouraging a move to their new cloud systems.
If this is the case for your ERP provider, you have to consider the future of your company. Sometimes this means making the transition to the cloud, or at least to a more sophisticated software. If you do not confront this reality, you may find your company utilizing unsupported software and eventually losing data because of it.
Regulatory
This is simple, your ERP must comply with accounting rules, so make sure yours does!
New leadership
New additions to your company's leadership team — such as a new CFO — may want to mandate the use of a new ERP system. If this is true, it is important that other members of the leadership team are convinced of the need to change, too. Once everyone is on the same page, start the ERP selection process.
How to decide if you need to upgrade
1. Understand your current scene: How does your company currently operate?
2. Identify what's wrong: What is not working in your current operation systems?
3. Determine the ideal scene: What do you want to see from your company in the future? What are the ultimate goals of your company as a whole?
4. Identify expected benefits of new software: What do you specifically hope to gain from a new ERP system?
5. Estimate the total cost of ownership:
Cost of software
Cost of data migration
Cost of the implementation of the software
Cost of project management assistance
Cost of changing hardware if necessary
6. Ensure benefits exceed the costs: Do the gains that come from implementing the new system outweigh the financial risk and cost?
7. Assess change management risks and identify mitigations: What can you and your team do to mitigate change risks?
8. Get agreement with key stakeholders: Are stakeholders invested in the process? Do stakeholders see the need for a new ERP system?
9. NOW start the selection: Ready to begin? Let's start the process.
Familiarize Yourself with What's in the Market
We have identified four tiers of accounting applications based on annual revenue of the business the software provider is designed to service. There are many variables to consider when picking your software shortlist, with different ERP solutions that are best suited to different needs. It is important to choose an application that best suits the size and needs of your specific company.
Tier 1 ($500m+ per year): Provides ERP for very complex operations and has high transaction processing.
Tier 2 ($50m-$500,000m per year): Services to companies which require deeper functionality and need to customize specific processes.
Tier 3 ($10m-$50m per year): Integrates accounting with other departmental functions.
Tier 4 ($1m-$10m per year): Keeps the books for a single company.
Our Software Selection Approach
If this is your first time selecting an ERP solution, it can be helpful to have a breakdown of what tasks are involved. The process can be complex, so we condensed all major components of the ERP Selection Process into simple milestones to help you with your project.
Initial vendor contact vetting
This is when you will conduct initial research on potential vendors. It is the first step in narrowing down your options.
RFI vetting
Once you have created your Request for Information, or RFI, you will be able to send this to multiple vendors. This will ensure standardization of vendor responses because each vendor receives the same information.
Establishing a thorough and relevant RFI establishes your control of the ERP process. Without a comprehensive RFI, vendors will not be aware of your needs and expectations and may not be able to meet them.
Mini demo vetting
The quality of the mini demos will determine which vendors will be selected as finalists.
Create a demo script and hold vendors to it. You and your company are the most important factors in this ERP process, so make sure that your questions are being answered and your voices are being heard.
Final demo vetting
We recommend inviting only 2-3 vendors onsite for final demos. Limiting your options will significantly decrease the time it will take you and your team to decide on a vendor.
Final selection due diligence
It is finally time to select your ERP vendor based on their offerings, preparedness, and support. Be sure that the leadership team is participating in this decision-making process. These will ultimately be the forerunners of this entire process, so it is important that everyone is on the same page.
Final Tips
Do not contact software vendors until you know what you need. Software vendors will be of no help if you do not know what your company needs. It is your job to drive the selection process by telling the vendor what you want. If you do not know what you want, vendors will rapidly turn into one-track salespeople telling you what your company needs.
Finish the implementation done as fast as possible, but don't forget to test it. Testing your software is a vital step in ensuring that your ERP implementation is a success.
As independent ERP consultants, ERP Advisors Group suggests that you do not change your software unless you absolutely have to. There is not always a need to transition right away, so why go through the process if you don't have to yet?
Last but not least, call us if you need any help. We exist to serve our clients as best as we can, so do not hesitate to reach out to us at any point in your ERP journey.