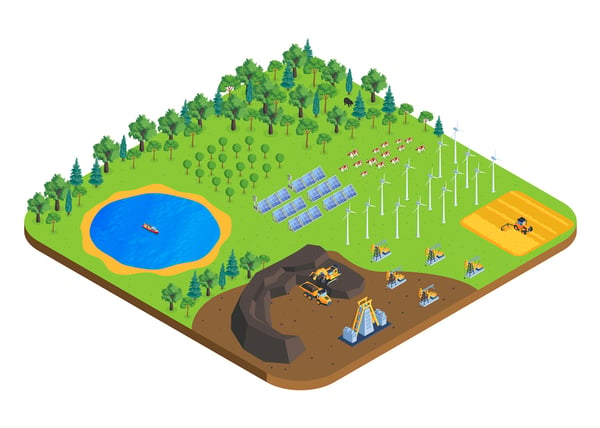 The software needs for companies in the Natural resources industry vary depending on their maturation stage. Most employees in this industry consider SAP the standard, but how can a company in the early stages balance the cost of a full-scale all-in-one ERP when they have not yet started producing? Conversely, is there a way to reduce your ongoing software maintenance and support costs? In this Trusted Advisor, Shawn Windle informs listeners on how to leverage their software solutions to satisfy requirements throughout the lifecycle of their oil & gas, mining, solar, and other natural resource companies.



The Mining Industry

The mining industry is unlike any other, in that companies in this industry have ERP requirements that vary significantly from the exploration to the production phase. Mining executives feel compelled to purchase the preeminent ERP to meet the demands of all phases, but this assumption can come at a high cost with questionable returns. It is vital that leaders have a deep understanding of all their options to ensure that costs do not become unmanageable before they can even begin producing.

What is the Exploration Phase & Why Would it Require an ERP?

The exploration phase can be defined by extensive planning to locate the targeted deposits. Over the course of exploration, companies must balance the lack of profit with the need for large, expensive machinery, mine construction, equipment maintenance, digging, blasting, and reclamation. Explorers need the right software to track all the dollars being poured into the ground; the software also must have good connectivity in remote lands while being sophisticated enough to handle international currencies, multi-book accounting, and consolidated financial statements. But balancing software cost with the consumption of investor dollars during the exploration phase is top of the mining CFO's mind.

Miners must be able to document, in real-time, the work being done and be able to quickly report any issues, whether that be with production or equipment. An ERP can automate otherwise manual processes which are responsible for tracking tens or hundreds of millions of dollars of mining expenses.

How Do ERP Requirements Differ Between Phases in the Mining Industry?

As mentioned previously, mining companies do not make a profit during the exploration phase and are relying upon funds secured from investors to begin. Funds can be heavily restricted at this point in the lifecycle; therefore, companies will find themselves at a crossroads between purchasing software that will meet their needs now and will continue to meet their needs as operations evolve. Software is still needed in the exploration phase, but there are fewer demands than later on when there is more justification for more sophisticated (and more expensive) ERP.

When companies move into the production phase, they find themselves needing software to match the new processes across many departments, including manufacturing, accounting, distribution, etc. If this was not addressed during the exploration phase, executives will be in a bind to change software during the transition to production. This is not only inefficient for costs but also time. It is essential for companies to have a roadmap to ensure resources are not wasted.
ERP Options for Mining

Many mining executives are familiar with SAP and consider it the de facto standard for their industry, but this does not have to be the case. SAP is not the only option for a start-up mining company looking to migrate off of QuickBooks or even for a veteran producer who is already on legacy software. A best-of-breed approach is not necessarily the right answer either. We have seen horizontal ERPs like Microsoft Dynamics Finance and Supply Chain and NetSuite with best-of-breed "bolt-ons" be workable, saving miners unnecessarily from an implementation that is tens of millions of dollars.

Too large of a system can bankrupt a mining company before it even gets off the ground, and too small of a system runs the risk of the company not being able to automate mission-critical tasks. It is a fine line to walk, which is why many mining companies choose to work with an advisor for the knowledge and experience required to put the company exactly where it needs to be to succeed. Depending upon its needs and operations, there is a myriad of options on the market to satisfy requirements, but executives must be willing to educate themselves about the products on the market or hire someone who can.
Conclusion

Overall, the mining industry is unique, making it difficult to navigate ERP needs, but leaders can rest assured knowing that it can be accomplished in favor of their business. A Needs Analysis is important for any business, but especially in the mining industry where pain points change drastically as the business matures. For mining companies, the right partner or advisor can be an asset that ensures the company has ERP implementation success.