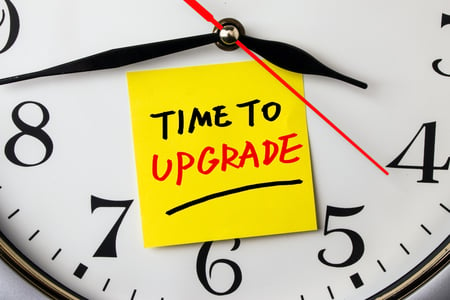 Why Do Companies Perform ERP Upgrades?
More and more companies are evaluating the need for software upgrades. In fact, recent studies have found that one in two companies are considering upgrading or migrating from their current system. With decades of combined experience, our firm has identified these points as the most common reasons companies upgrade.
Growth
Software can be a major inhibitor (or facilitator) of business growth. Companies may find themselves looking to expand, whether they are extending international operations, needing to track more business transactions, offering new products or services, bringing in a new line of business, or more. The wrong system can limit these operations and prevent the business from reaching new heights.
Merger and acquisition activity can also result in growth factors that create a need for new software. The company merging with or acquiring the other company may be on a completely different solution that cannot effectively integrate with another system. In those situations, the need for new software may be vital to continued growth.
Legacy Technology
Relying on legacy systems puts businesses at significant risk because the technology is often outdated, unsupported, or simply an organizational burden. An unsupported system no longer receives hotfixes or updates, leaving the system vulnerable to cybersecurity attacks, as well as compliance issues when the system has not received the current regulatory standards upgrade. Additionally, a legacy system may rely on scarce, legacy resources, while also being unable to meet your business requirements.
Regulatory Needs
Outdated systems may spell trouble for your business's compliance requirements. Accounting and general tax rules change every year, meaning your system must change with the times. If you are on a legacy or outdated system, it may no longer meet those needs or be able to receive necessary upgrades to ensure future compliance.
New Leadership
A change in leadership may also lead to a software upgrade. Modern leaders often enter their position with the goal of upgrading the company's professionalism by reducing manual processes that rely on "good people" who just know how everything is done. They may also mandate the use of specific technology based on success from previous experiences. In these situations, the new leader may mandate the company consider new software applications.
Signs that Your Business Needs to Upgrade
While these are the most common reasons businesses upgrade, every business is unique and may have any combination of these requirements, or others, hinting at the need for a software upgrade. So how can you identify your need for an ERP upgrade?
First and foremost, leadership should evaluate the current business scene. In doing so, they should prioritize identifying what is wrong with how their software runs the business or what is negatively impacting operations. Based on that evaluation, business leaders should ask themselves what their ideal business landscape would be and if technology could assist the business in reaching those goals. Are tedious manual tasks costing the business time and money? A new ERP can solve this problem. Are employees struggling to use the current system? This could go either way depending on the root cause. Is high turnover impacting efficiency? This is likely an operational issue that new software won't simply solve. Is it difficult to retain good staff because legacy products are too difficult to use? Every business needs to understand what they need in order to determine their need for a new ERP.
If you are on a legacy system, you will need to ask yourself different questions to determine your need for a new ERP. These questions should include:
Is the legacy ERP putting our business at risk? Whether that be cybersecurity breaches, shortcomings in compliance, the risk of system failure, etc.
What happens if the system breaks down or the system file gets too big and crashes?
What happens if the system cannot be fixed?
What happens if our employees cannot work because the system cannot be fixed?
Do we have enough resources to continue to maintain the legacy system?
Other signs your legacy ERP needs to be left behind may be a system barred from upgrades due to over-customization, missed upgrades leaving gaps in functionality resulting in an outdated product, sunsetting of the system creating a lack of support, or limitations in adding integrations, such as EDI or CPQ, resulting from incompatibility with other technology.
Leaders should also consider the role technology plays in attracting and retaining talent. Businesses utilizing state-of-the-art technology to increase productivity and free workers to do more value-added tasks are especially likely to attract the best talent. Likewise, outdated technology can be slow and frustrating, leading to higher turnover. The employee experience is vital, so consider that when evaluating your need for new software.
Questions to Ask When Evaluating Your Need for a Software Upgrade
Is the system still performing the way the business needs it to?
Is the vendor ending system support?
Is the product outdated?
Does the product rely on outdated infrastructure to run?
Is the system a big point of frustration for employees? Would change cause more problems?
Are there plentiful resources in the market that can support the product?
Is an upgrade absolutely necessary?
Conclusion
Regardless of your reasoning, no two companies are exactly the same and the executive team must do the work to understand the inner workings of the business and its unique requirements. Just like the right software can propel a business to new heights, the wrong solution could lead your business to disaster. However, it is vital to only change your software if you absolutely must. If you are unsure about how your software could be affecting your business, contact an expert ERP Selection Consultant at ERP Advisors Group to schedule a free consultation.