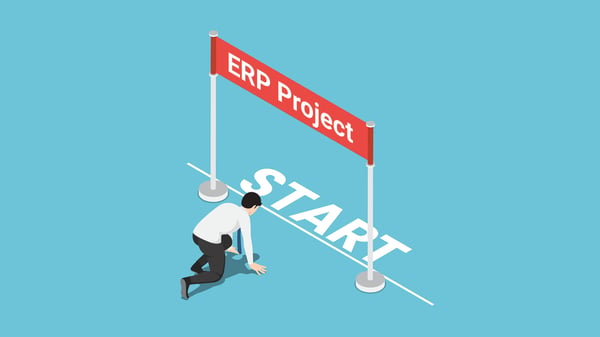 Once you have decided to embark on a major software update, it is important to know these quick-start steps for ERP implementation.
Preliminary Steps for ERP Implementation
1. Get Everyone's Agreement
It may seem like a given but getting all impacted stakeholders on board with the project is one of the first steps to ensuring a successful ERP implementation. If a stakeholder or executive fundamentally disagrees with the need for new software, this could lead to issues during the project. Gather as much information as you can to inform everyone the reasons an update is necessary.
2. Get Your Data in Order
Transferring data from your old system to the new one is undoubtedly a critical part of an ERP implementation. If there is any company data which hasn't been updated in a while, be sure to get it up to date and current. If some data is disorganized and hard to find, get it organized. Moving disorganized and out-of-date information to a new system will only cause delays during the project.
3. Get Your Team in Place
One key to a successful implementation is having a good project team. Find the crucial players who will need to be a part of the process and get them lined up. Ensure they adjust their schedules as necessary to allow for plenty of time on the project. Also, when meeting with the team, be sure to set expectations so everyone knows what to expect throughout all phases of the project.
4. Line Up Resources
In addition to the project team leads, you will also need to utilize various resources across your company. Which departments will be affected by the new software? Who will need to use and test the software to ensure it is working? Get these resources scheduled as early as possible, don't wait for them to contact you first. Ensure you have agreement from all impacted departments regarding the timeline for the different phases of the project.
What to Do Once the Project Begins
5. Start the Communication Early
Once your ERP implementation project is underway, it's important to get the communication going early and often. Make a plan that details who you need to communicate with, when you will do it, what you are going to communicate, and how you will get that communication out. Plan these communications for each week of the project and include any other pertinent data, such as who will be doing the communicating.
6. Work Now and in the Present
As the project continues, be sure you are always aware of what tasks are happening currently. This could be weekly or even daily. In addition, you will also need to keep an eye on what is coming up in the future. Be sure to get onto people's schedules in advance of when your implementation partner will need to meet with them. Always plan ahead for the next step and beyond. This will keep the project moving smoothly and quickly.
7. Check in Frequently
Keep in close contact with your implementation partner and check in often to ensure they have everything they need. Are they getting the necessary data from a particular department? Are they waiting for feedback after initial testing to roll out the next phase? If you find your implementation partner needs anything from your team, find out what it is and assist them to get it.
8. Keep Stakeholders Up to Date
It is understandable that during an ERP implementation, people are going to get busy. But though they may not be part of the day-to-day activities of the project, key stakeholders are still a vital part of the process. Keeping them up to date as often as possible, even informally, could be helpful should an issue arise. In the unfortunate event that something goes wrong and a delay occurs, or a budget increase is needed, it will be easier to explain to stakeholders if they were already aware of the problem.
9. Don't Go Live Without Time to Test
Testing is critical during an ERP implementation and if you know going into a project that you won't have a lot of time to devote to it, don't start the project. Implementation failures often stem from a lack of testing or a rushed testing process. Testing will find bugs and issues that could grind production to a halt if they occur after the software is already in use. It is better to put off the entire project until a later date, when you know your team will be able to adequately test the new system before going live.
10. Always Have a Buffer
Another vital aspect of an ERP implementation plan is knowing that things may go wrong. As much as you prepare, plan and work to keep a project rolling along perfectly, it's nearly impossible to implement new software without something unexpected coming up. You should have a buffer of approximately 25% in the timeline and budget before starting a project. If you propose a plan with an exact timeline and an exact budget and your boss says it absolutely cannot be one day late or one dollar over, don't do the project. Once again, it's better to wait until time is not an issue or more funds are approved, than to go into a project without any buffer.
Knowing these important steps for ERP implementation — both before it begins, and once it has started — will help keep your project on track toward success.