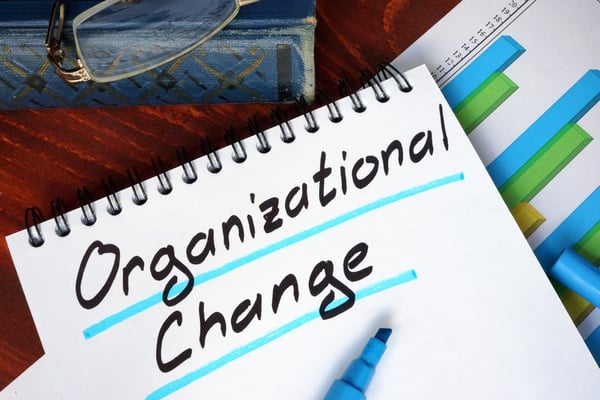 Techopedia defines Organizational Change Management as "a framework structure around the changing needs and capabilities of an organization. OCM is used to prepare, adopt and implement fundamental and radical organizational changes, including its culture, policies, procedures and physical environment, as well as employee roles, skills and responsibilities."
OCM has everything to do with successfully navigating major changes in your organization. Without some sort of effort to keep an ERP implementation project on track, that project has a much lower chance of success. OCM is important, and in actuality, should be an integral part of an overall ERP implementation.
Your ERP system, after all, should improve your organization's processes, operations, customer interactions, and more. Here's a high-level overview of our five-step process to apply OCM to your ERP implementation project:
Assess your organization. Every company has those who are involved in the project and those who are totally removed from it, as well as those in between. When we're engaged on an ERP project, our goal is to objectively assess a business from the owner's standpoint as well as from the end user's standpoint. Why does the organization need this software change and do they have buy-in across the organization? If not, is there a willingness to change? It's important to get a handle on the attitude of the organization overall.
Put a change management plan into place. Looking from the beginning of the ERP initiative to the end, what do you have to do to achieve your end goals? Successes and failures are made in the execution. Training is a huge part of that. There might be financial incentives or bonuses that might help move things along and other ways you can get employees engaged and motivated.
Stay the course. Don't get into a situation where the ERP implementation team works in a silo and the core user group doesn't have the opportunity to review along the way and give their perspective until your go-live date. Develop a plan with milestones and insist on people's participation. If you don't, you risk your project falling apart at the eleventh hour, or worse, launching and failing immediately.
Test at every milestone. Nothing is better for a project's success than having users test out the product during the configuration stage. This is obviously essential during user acceptance testing and after user acceptance tests are completed and changes are made by the development team, but if there are opportunities to have end users work in the product during training, that's even better.
Get key people involved when going live. That includes the CEO on down to your front-line employees. A good change management plan accounts for mistakes, which do happen. Plan your go live with the worst-case scenario in mind and make sure all hands are on deck should a problem occur.
Organizational Change Management isn't just about the technical aspects of an ERP implementation project. It focuses on the people side of the project. Take the time to understand what an impact could be should a project not go as planned, and account for that in your OCM plan.
Need guidance? ERP Advisors Group is here to help. Contact our team to learn more about how we work with clients navigating big projects and help them achieve their goals.