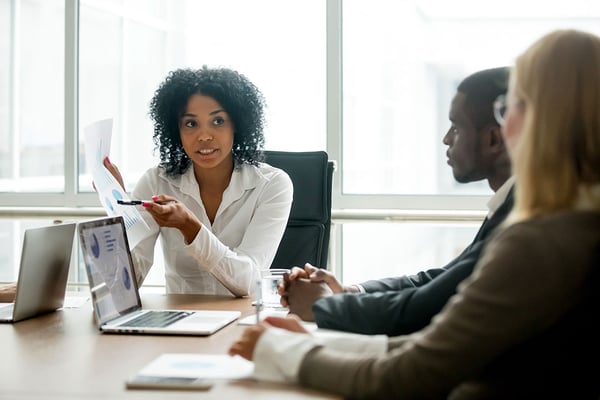 At ERP Advisors Group, our ERP implementation methodology is designed to help you with every phase of your project. Our goal is to ensure that every project goes live, without exception.
Don't Compromise During an ERP Implementation
CFOs who have been through an ERP project, or even those who have researched enough to understand what ERP implementation methodology to use, know that there are risks involved in a major software update.
Once you decide that the update needs to be done, you're ready to get the project off the ground. You may even have an implementation partner, but they will only handle a small part of the process. You know you will need a leader to run the project but wonder if you should you pick someone from your side or hire outside help.
Start looking internally first. Maybe your controller says they are up to the job and though they are great at what they do, you also know that they already work 50 hours a week.
Perhaps your CIO suggests someone from that department, but you know deep down that employee probably isn't bright enough for a project of this scope.
In either case, your gut is telling you that using an internal person to run the entire implementation isn't a great idea, but you decide to give it a chance. You want to make the CIO happy, or you're trying to give an employee that shot they've been asking for, even though you know they don't have a full and complete understanding of your business yet.
When it goes wrong, you'll remember you knew all along that it wasn't a great idea, but you decided to compromise. Ignoring those gut feelings will always come back to haunt you. Never compromise during an ERP implementation project.
Problems with Typical ERP Implementation Methodology, and How We Solve Them
The Problem:
Focusing Only on the Plan

When you hire someone to run an ERP implementation, typically they are a Project Management Professional — someone who has the certification of PMP. Their methodology is that are they are there to run the project and the project plan, nothing else. This may seem as though it would cover everything in the project, but it doesn't. Often there are key steps that they don't supervise.

Our Solution:
Focusing on the Client

What makes ERP Advisors Group's implementation methodology different is that our focus is on our client instead of just the project. We oversee not only the client, but the client's tasks, the vendor, and the vendor's tasks as well. We also do the overall general management of the project. We act as a liaison between our client and their vendor and assist both parties to understand what is needed from each side to help ensure a smooth process.
The Problem:
Only Doing Their Part

After hiring an ERP implementation partner, you may think they will run the entire project. But an implementation partner is rather like a subcontractor hired during the construction of a house. If you need electrical work done, you hire the electrician and they come in, do their work and leave. They don't pay attention to or manage any other part of the construction. Similarly, an implementation partner doesn't control the ERP project, only their own steps.

Our Solution:
Manage the Entire Project

Our approach is to partner extremely closely with our client so that we become a part of their tasks. In essence we become a part of our client's team and help ensure that each step of the project is completed. We do this in addition to managing the vendor and ensuring their steps are done as well. Our two-pronged approach (client and vendor) is one of the ways we ensure all projects we manage go live, 100% of the time.
The Problem:
Not Enough Details

Even if you have hired a Project Manager Professional, you still aren't going to get the management you need for an ERP implementation. An outside Project Manager may not be aware of all the details of your industry. For example, they may not know to ask specific questions about your processes, or even fully understand your business and what you do. This could mean they miss something vital, such as knowing that a particular department has data that will need to be migrated. Missing data like this could cause major delays in the future.

Our Solution:
Understand Every Detail

ERP Advisors Group has worked with clients across multiple industries, including everything from agriculture to financial services. We understand that each company is unique and have enough experience to know specific steps that need to be taken within specialized industries. We know what questions to ask to ensure that all processes in your company are fully understood, so that all your pain points are resolved by the new system.
The Problem:
Not Their Problem

Working with other Project Managers and implementation partners, one phrase that may come up a lot is "not our problem." They may say it in a nicer way, but to a PM, there are certain tasks of an ERP project that sit squarely on the shoulders of the client and are not part of the PM's job. If the client gets those steps done, great, if not then the PM won't get involved.

Our Solution:
Client Problems are Our Problems

Because we partner so closely with our clients during an ERP implementation, our client's problems become our problems. We take part in every aspect of the project and keep track of every step that needs to be done. We're willing to take responsibility for any issues that come up and work each one all the way through to resolution. We don't just pay attention to the overall plan, we run it every step of the way. We know what actions of the project are being done by the vendor, which ones are being done by the client, and we will follow up to ensure each one is completed.
At ERP Advisors Group, our ERP implementation methodology is designed around one purpose: Helping our clients find the right software solutions. We will do whatever it takes to help our clients achieve a successful go-live.