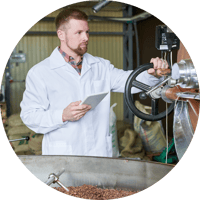 At this point, we have completed our needs analysis phase and are heading into the selection phase of our project. I knew I needed to bring in someone to help assist us with this project to help advance the process. We have a small, growing team that doesn't have much in-house experience with ERPs, and I knew I couldn't do our project alone, or else I'd be doing it forever to ensure I was diligent in finding the right solution for us. I did some research to find a firm to work with and came across ERP Advisors Group.
I really liked that EAG was familiar with the ERP market and that they weren't going to try to sell us one particular product. The fact that they are independent mattered to us. They have a pulse on what's happening in the market, knowing how much we can push on pricing and licensing to make sure the process is fair and that we get the best deal.

I also like that there is a methodology that EAG follows and approaches each project with; a process they take companies and clients through. They helped us with timelines and expediting the day-to-day, in-the-trenches type of work. So far, ERP Advisors Group has been great to work with. Bringing in EAG has been of great value.
.