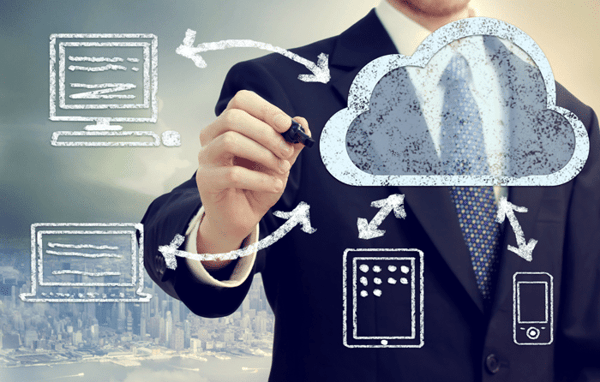 At ERP Advisors Group, we help businesses select and implement enterprise applications such as accounting software that meets the needs and goals of the organization. One of the most common questions we are asked is: Should accounting systems exist in the cloud and are they secure and reliable enough? In our latest edition of "The ERP Advisor" Conference Call Series, we examined what it means to have accounting systems in the cloud, the different types of cloud deployment, and the advantages and disadvantages of having your accounting software in the cloud. You can find our summary of that conversation here, or you can download and listen to the podcast from the conference call.
There's been a large evolution of enterprise applications moving to the cloud and it only continues to grow in popularity. In 2005, we were hired to work with a nonprofit who was going through the selection process for a new accounting system dealing mainly with general ledger and core financials. The controller told us he wanted the application in the cloud. At that time, the cloud was not as pervasive so we were surprised by his demand. However, when he showed us their on-site server room, we knew exactly why he came to that decision. The server room was not only open and not locked up, it was outdated and could literally go down at any time. Taking care of the servers was not their job or specialty so they reasoned that they should let someone else handle the server requirements, and they could focus on doing their job of only worrying about the financials. From then on, we have seen the popularity of the cloud increase dramatically, and we have helped many clients go through this exact evaluation.
What does it mean to have accounting software in the cloud?
A large number of routine online transactions — both business and personal — occur in the cloud. For example, placing an order through Amazon, interacting on social media, accessing your bank account, and streaming music all happen via the cloud. These are all examples of cloud-based financial software. It is what is known as eCommerce, or buying products in the cloud. Brick and mortar retail stores have taken a huge hit with the dramatic increase in online transactions, which goes to show how popular the cloud is becoming. Even on-premise software solutions that have been widely used by consumers such as Microsoft and Quickbooks are moving online and to the cloud.
The cloud, otherwise known as cloud computing, is an internet-based computing system that allows for the sharing of data and other resources across multiple devices. The cloud creates on-demand access to configurable computing resources such as networks, storage, servers, and applications allowing users to avoid up-front infrastructure costs and enabling organizations to focus on their core business. When you purchase cloud-based accounting software, you're not just purchasing the software, you are receiving top-of-the-line infrastructure to host it on.
Types of Cloud Deployment
There are a few different types of cloud deployment, and some salespeople might not spell out all the different deployment options available, or the differences between them as they pertain to your business. Here are the three most common types of deployment options available for cloud-based accounting software:
Hosted Instance: In this type of deployment, you work with a hosting company that provides all the infrastructure, stacks etc. and you purchase the software and install it on their servers. Microsoft Dynamics AX is a popular accounting application that we frequently work with and it would be deployed in this fashion. Essentially, your company would buy the Microsoft software and then install it on the host company's servers. The hosting company is in charge of maintaining the servers, infrastructure, and ensuring uptime and availability and your firm will be responsible for maintaining the application itself, including any necessary upgrades, enhancements, customizations, etc.
Single Tenant Software as a Service: In this type of deployment, there is still only one instance of the code or application, but you're not responsible for maintaining it. In this scenario, the host is responsible for both the infrastructure AND the application itself. Some examples of applications that deployed in this fashion are Epicor E10 and Infor CloudSuite Industrial (Syteline).
Multi-Tenant Software as a Service: Salesforce, Netsuite, Intacct and other large applications that we work with are typically deployed in this type of model. Multi-tenant means that you share an instance of code with multiple other tenants or clients, but the vendor takes care of absolutely everything for you. This includes the infrastructure as well as maintenance. It is beneficial for the tenants because when the vendor performs upgrades, enhancements, or any type of maintenance or change, every single tenant is affected.
Note that the concept of a "tenant" in this context is virtually identical to the way we use it conventionally. Let's say you were a roofer, and a giant hail storm just hit your area. If you went to a neighborhood with 10 homes, you would have to replace the roof on each of the 10 homes, and each repair would be a separate job, or single-tenant software as a service. When you go to an apartment complex though, you replace one roof, and everyone within that complex instantly benefits. That is comparable to multi-tenant software as a service.
There are positives and negatives to all 3 types of cloud deployments, but what's right for your organization largely depends on your specific needs and requirements.
What does this mean for Cloud Based Accounting Applications?
With critical business functionality as wide-ranging as accounts payable, accounts receivable, financial statements, purchasing, and more, your accounting software is a truly different animal than any other enterprise application. Keeping all of that in mind, there are a few things to consider when you're evaluating a cloud-based accounting system:
Accessibility: Can you get to the app easily and reliably? Accountants have the tendency to close the books at the beginning of each month, which means a lot of other people in the organization are also going to want access at the same time. They need to be able to get to the application to do their job.
Performance: On the same line as accessibility, when multiple people are wanting access to the application, it has to be able to handle everyone hitting it at once during busy times. The application must be tuned to handle all the traffic spikes your business users throw at it.
Security: When dealing with financial systems, security is always going to be the number one issue. You want to make sure that your entire organization's financials are not going to get lost, stolen, corrupted, or fall victim to fraud. Security is actually one of the major benefits of having an accounting system in the cloud. We've all heard about different websites being penetrated and info being stolen, but very rarely if at all do you hear about data being taken from applications. Rarely are there exploited vulnerabilities in well-adopted accounting applications that allow people to steal financial data.
Functionality and Future Functionality: When choosing a cloud-based application, it must provide the functionality that meets your needs and helps you run your books: for example, many businesses need to support multiple currencies, multiple countries, and multiple ledgers that need to be brought together and consolidated. As financial standards and accounting principles change, software products need to constantly evolve to meet those needs. The benefit of the cloud for the future is that cloud deployment makes it easier to roll out new functionality for vendors, rather than when everyone has their own instance.
There is obviously a lot to consider if you are thinking about moving your firm's accounting system to the cloud, but there can be no doubt that there are a lot of benefits native to the cloud model that make a lot of sense for business, including reliability, security, scale, cost, and support.
When helping our clients choose an accounting system that's best for them and their business, we look across the whole spectrum of applications and deployment models, to find what suits them best. Sometimes, that isn't a cloud-based model. When an organization needs more control over their application in the back end, the better recommendation is a hosted solution. It all depends on what your organization needs. Regardless of specific use cases that might not fit the software as a service model, the cloud is a very viable solution for accounting systems, and we believe that business will continue to adopt them at a high rate.