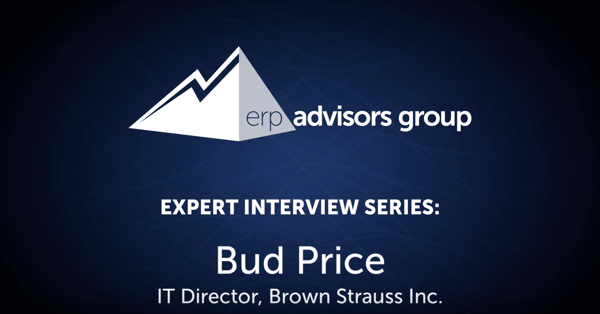 My name is Bud Price and I'm the IT Director at Brown Strauss, which is a distributor of structural steel which includes everything from the steel beams for houses to large buildings, bridges — different things like that.
Meet Bud Price


What made you decide to implement new ERP software?
Sure. So we were at a point where I was having trouble hiring people. And we took a look at the skill set or the amount of people out there with the skill sets that we needed for our current ERP system, which was a homegrown system. That was diminishing rapidly. Most had retired and in the next couple of years, a lot more were going to be retiring. So we saw that as a risk and we also knew that it was a system that wasn't meeting a lot of the needs that we had. So we thought it was a good idea to do it sooner than later so that we weren't painting ourselves in a corner so to speak.
What made you choose ERP Advisors Group?
So that was a little process on our side. We used the executive steering committee to come up with some criteria on how we would choose somebody. The things that we were looking for was somebody with a local presence, somebody that wasn't too big so that we wouldn't get lost in the shuffle and somebody that doesn't represent, their agnostic if you will, they don't represent a specific ERP product or a shortlist of ERP products that they work with. Because we had some outliers that we wanted to look at that were steel specific and so ERP Advisors Group met all the criteria for us.
What services did the team at ERP Advisors Group provide?
So they walked us through the selection and helped us out there. They had a lot of expertise in a lot of the ERP software that was on the market. They've done several projects where they've implemented different ones, so they were pretty knowledgeable about what was available, who the leaders were in the industry, what other people, what decisions other companies were making and why. So we really relied on them heavily for that. Some of our team members had their own experiences with different products and had some ups and downs with those but we really needed a full, somebody with that full understanding. And so they walked us through the choice and they helped us with the contracts and now they're helping us manage the project with the implementation team. So you know we made a conscious decision to choose them again in each phase. And I think we're going to use them for the whole product lifecycle.
What was the ERP selection process like?
So they came in and kind of told us their process. And then they started executing on it. You know it didn't require a ton from me or from us. But they did take the time to ask the right questions and kind of learn about our business and find out what our needs were. From there, I think we started with a group of 20 different ERP's that were available and they were able to narrow the field down to 3, based on their feedback. They give them some specific questions to answer about their products and how they're how their businesses were. Our Executive Steering Committee had, I think each individual on that team had something different that everybody was hoping to get out of that. For example, Ryan our President wanted something was going to last for a long time so we wanted a company that was stable. We wouldn't have to do this again in five years. We actually had one company that came back and said, "We're end of life next year do you still want to talk to us?" Some of them were easy, some of them were harder but ERP Advisors Group kind of guided us down to and narrowed the list down to 3 that really fit us fairly well.
What were your main objectives for this project?
The goals and objectives, well first off was really we just need to get off this platform because it was becoming a risk. But it seemed like each individual on the Executive Steering Committee had a different take on what they personally were looking for. For example, our President wanted something that was going to be long-lasting. He wanted a company you could count on to be there 10 or 15 years if we stay on this product for a long time. You know I was looking for a good implementation team on the IT side, somebody that I know I could depend on and was going to try and stick to the project plan and you know finance was a little bit more of a slam dunk for them. That's a little bit easier. But really we've got a lot of particular users that are going to be retiring soon. They helped build the original system so they've been with the company for 30 years. And so they helped build the original system so there's a lot of knowledge that's going to be retiring soon and we wanted to make sure we captured that as well. So that's part of that, part of the timing as well, making sure that we caught that before they all retired, all that knowledge.
How did ERP Advisors Group help you meet those objectives?
They had a great process where they came in and followed their process step by step, made it easy to understand, gave the presentations that we needed to see, asked the right questions, talked to the right people. And you know, when we came down to the 3, then we did the demos and we examined real good. They were very excellent about giving their opinions to help us come to a final decision. I'm confident we made the right decision with their help. I think the whole the whole company is confident that we made the right decision based on what we've seen so far.
How did EAG help your company be certain that new software was in your best interest?
That's a really good question. They actually did an analysis and they interviewed department heads and subject matter experts and on an individual basis and they went through every area of the company. You know, it didn't take a long time, it wasn't a huge process but they were able to capitalize on the time and get down to the issues and then kind of score our company as a whole. And they really came up with some red flags that said, you know, these are the reasons why you need to move onto a new system and made that very plain to us and it all made sense. It was more eye-opening. I think there were some people that kind of knew or thought but they didn't know why. And so the process they followed and the documents they came out with and the presentation they gave kind of nailed it and said these are the specific reasons why we're at risk where we're at.